With the fast approaching holiday season and intimate gatherings, having a reliable refrigerator at home is a must have. Refrigerator plays a significant role in our home as it reflects not just the food we keep but also the health of our family and loved ones. Thus, having the right refrigerator serves as a big factor especially when it comes to efficiency, convenience, aesthetic, and ease it provides to every user.
Selecting the right refrigerator that will perfectly match your lifestyle and tailored to your family's need is essential as it provides big impact to your kitchen, which is a big part of our home. These are affected by multiple factors such as capacity, size, innovative features, and efficiency to which guides you to a more informed purchase decision or switching to an investment worthy appliance that will provide you utmost convenience, ease, and value for money.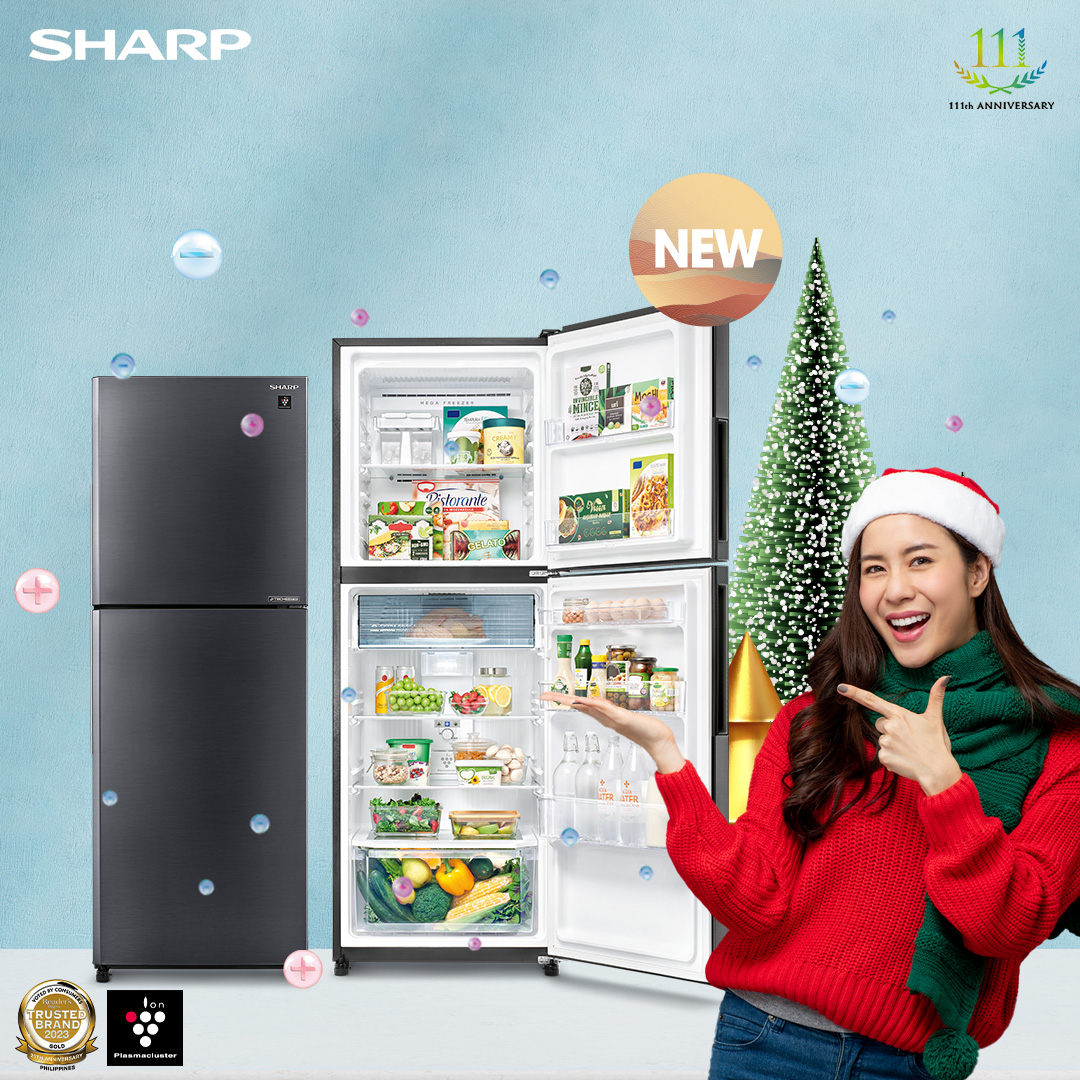 With customers in mind, Sharp addresses the needs of most of the Filipino kitchen household with its world class refrigerator products that prioritizes functionality and provides convenience and hassle free experience that lasts. Sharp is also proud of its Japan Technology products to which it offers quality, innovation, and technologies that uplifts the standard of your kitchen. Sharp provides wide variety of offerings including Side by side, 5-Door, 4-Door, and 2-Door Inverter refrigerator, and more, fit for all types of home and lifestyle.
In search for your ideal refrigerator, it is essential to understand the following qualities that will help you get through your busy day and meet your family needs. Here are some qualities to help you spot the best refrigerator that will surely become handy this holiday season.
Modern and Sophisticated Look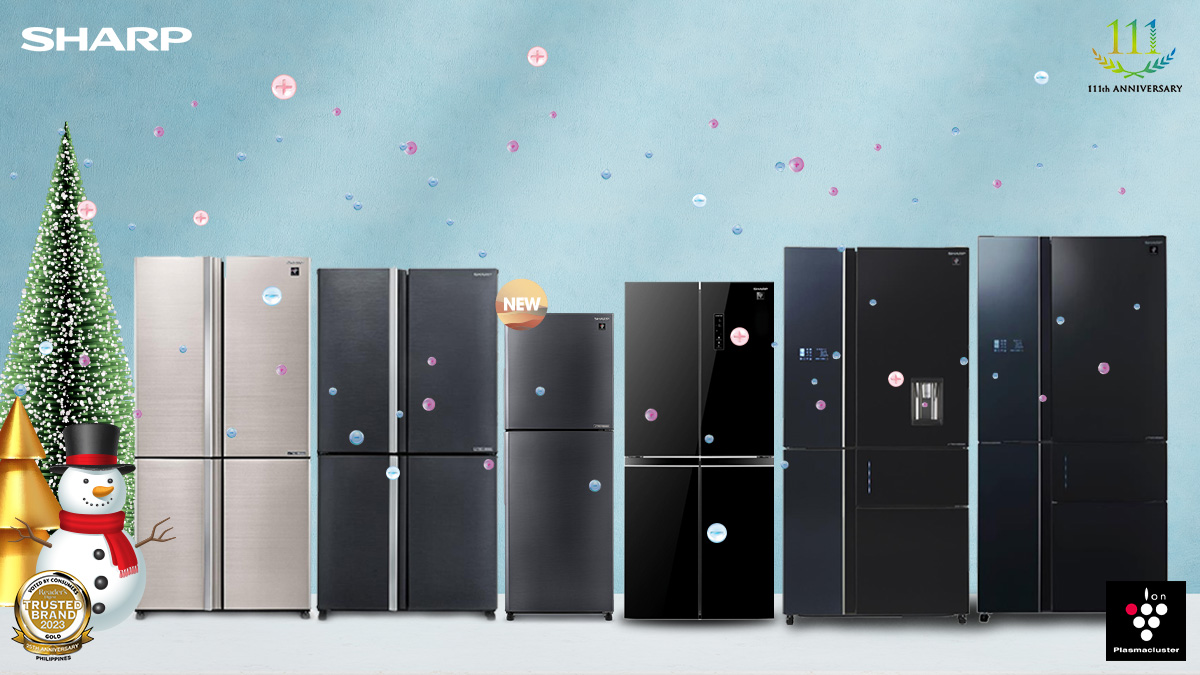 You'll definitely love Sharp's NEW Peach Series Refrigerator (SJ-FTS08BVS-DS, 7.9 cu.ft (Also available in 8.9 cu.ft., 10.1 cu.ft., 12.7cu.ft.), a smart addition to your kitchen. Having an aesthetic kitchen makes cooking extra fun and home more exciting. The new Peach series has a sleek and modern design that you will sure love especially with its space-saving layout and elegant matte finish. Additionally, Sharp also has its 4-Door No Frost Inverter Refrigerator (SJ-FTF525BVP-DS(20.8cu.ft)) that will surely be your next kitchen favorite with its sophisticated look. This model has won IF Design Award 2021, one of the world's most prestigious product design awards. Truly, style meets comfort with Sharp refrigerators as it combines both beauty and functionality.
Innovative and Energy Saving
Sharp is committed in providing Japan Technology products, which embodies commitment to quality and innovative advanced features. The new model is equipped with J-Tech Inverter Technology which makes it more energy efficient and lets you save more. Sharp refrigerators have also passed the strict Japan quality, 7-Shield protection, which is proven to have safe operation and high endurance under various circumstances. It also has innovative features such as Biomimetic LED light, Smart Cooling Fan, Extra Cool Plus Mode, Energy saving mode, Express Freezing, and Antibacterial deodorizer, just to name a few. Indeed, this makes up the best choice for your home making life easier and more convenient.
Big Storage/Capacity
The storage capacity of a refrigerator is one of major look out to consider as it handles all the storage problems you will encounter especially for busy kitchen seasons. Some common problems are storing large food trays, boxed food, and larger quantity items. With that, having a reliable big capacity storage to cater all your needs is definitely a must have especially for different type of occasions. One advantage of the New Peach Series model is that it also has a Mega Freezer usability, big vegetable case and counter depth. Additionally, Sharp also has 5-Door (SJ-FTW27CVP-BK, 26.8cu.ft), (SJ-FTF27CVP-BK, 27.1cu.ft.) and 4-Door (SJ-FTS600BVP-SS, 23.9cu.ft), (SJ-FLG16AVP-BK, 16.7cu.ft) No Frost Inverter refrigerator, that will surely be your next best friend with its multiple storage capacity fitting all your needs.
Keeping food quality at its best
Maintaining the quality of food at home is crucial as it affects health and wellness of the family. Thus, having a reliable refrigerator should be a priority to keep food at its best quality. Sharp is proud of its models that are equipped with Plasmacluster Ion Technology (PCI), which cleans the air inside the refrigerator by releasing positive and negative ions by turning it into water molecules which is already harmless to the food, reducing levels of undesirable contaminants and odor that prolongs freshness. The new Peach Series (SJ-FTS11BVS-DS, SJ-FTS13BVS-DS) models also has this PCI Technology and Moisture Shield Feature that retains freshness and moisture of food for longer period.
The start of Holiday Season also marks the start of a busier kitchen, which also calls for a better and sharper solution to your needs. With Sharp refrigerators' efficient and advanced features, make the coming holidays more exciting, hassle free, and a moment to celebrate cherished moments at home.
For more updates and information regarding Sharp Refrigerators and the New Peach Series Model, please visit Sharp Official Website at https://ph.sharp/ and Sharp Facebook Official Page at https://www.facebook.com/SharpPhilippines.
You may also visit the leading appliance stores near you.
*Refrigerator sizes are in gross capacity