Celebrate your dad and all of the awesome father figures you know this weekend! It's time to capture your heartfelt moments in stills at the Aura Check! Self-shoot Photobooth for FREE!
In collaboration with Klick! Self-Shoot Studio, this innovative experience will be available to the public only for 2 days, with 200 limited slots per day!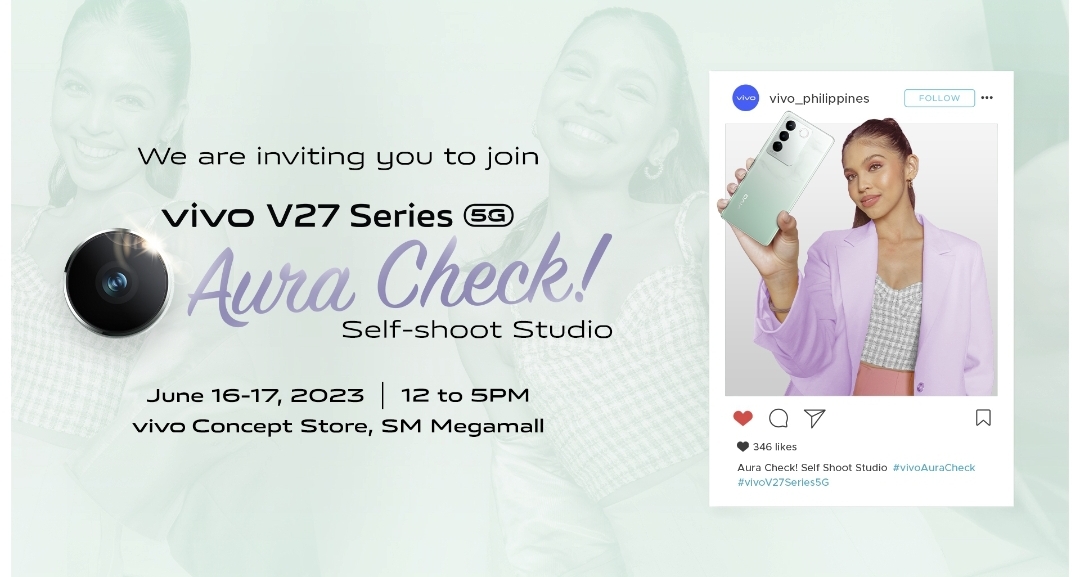 So, head over to the vivo store in SM Megamall on June 16 & 17 from 12:00 PM to 5:00 PM to try this pop-up self-photography box! Whether you will be with your entire family or even by yourself, get ready to show your genuine smile and memorialize your fun aura moment in the best quality, with none other than the vivo V27 5G.
Excited? This cool photobooth is powered by the vivo V27 series, and here's what the 200 walk-ins can expect:
Perfect lighting
The V27's Aura Portrait Algorithm is an impressively distinct feature that will help to amp up your lighting so you can receive the best light while you or your family are in your picture-ready positions.
Set your worries aside as you can be comfortable in front of the camera and be your own photographer with a clicker to take your best shots!
Professional-quality photos
Boasting high-resolution cameras and the Aura Portrait Algorithm, the V27 will snap crisp and vivid photos of you as you enjoy this fun photobooth experience!
With all possibilities in consideration, remember that striking poses should be fun! The vivo V27 will make you look your best in every shot and deliver high-quality, true-to-life photos!
Printed photos for FREE
For keepsakes and memories, nothing beats photo prints that you can display on the wall or on your desk to remind you of this amazing experience with your dad.
Thinking of your next social media content? You can take an 'aesthetic' shot of your cute father's day memento from the Aura Check! Self-shoot Photobooth and share it with your Instagram, Facebook and TikTok friends. Expect the likes and hearts to come your way!
Don't forget to use the hashtags #vivoAuraCheck #vivoV275G.
See you there!
For more updates, visit vivo's official website, Facebook, Instagram and TikTok.