Kingston Technology, a world leader in memory products and technology solutions, today introduced the specially curated RBV PC Solutions, which offer recommended memory and SSD product combinations to satisfy the diverse needs of PC users, including gamers, creators and more.
As the world's largest independent producer of memory modules and the leader in channel SSD market share, Kingston is the No.1 brand for memory and SSD, excelling in product performance, reliability, customer service and warranty. Kingston uses only the best quality components in products, backed by 100% testing, to deliver top-tier performance and reliability to its customers. Kingston takes pride in providing fast and proactive customer service, with lifetime warranty available for all of its memory modules, and multi-year warranties on its SSD and USB drives.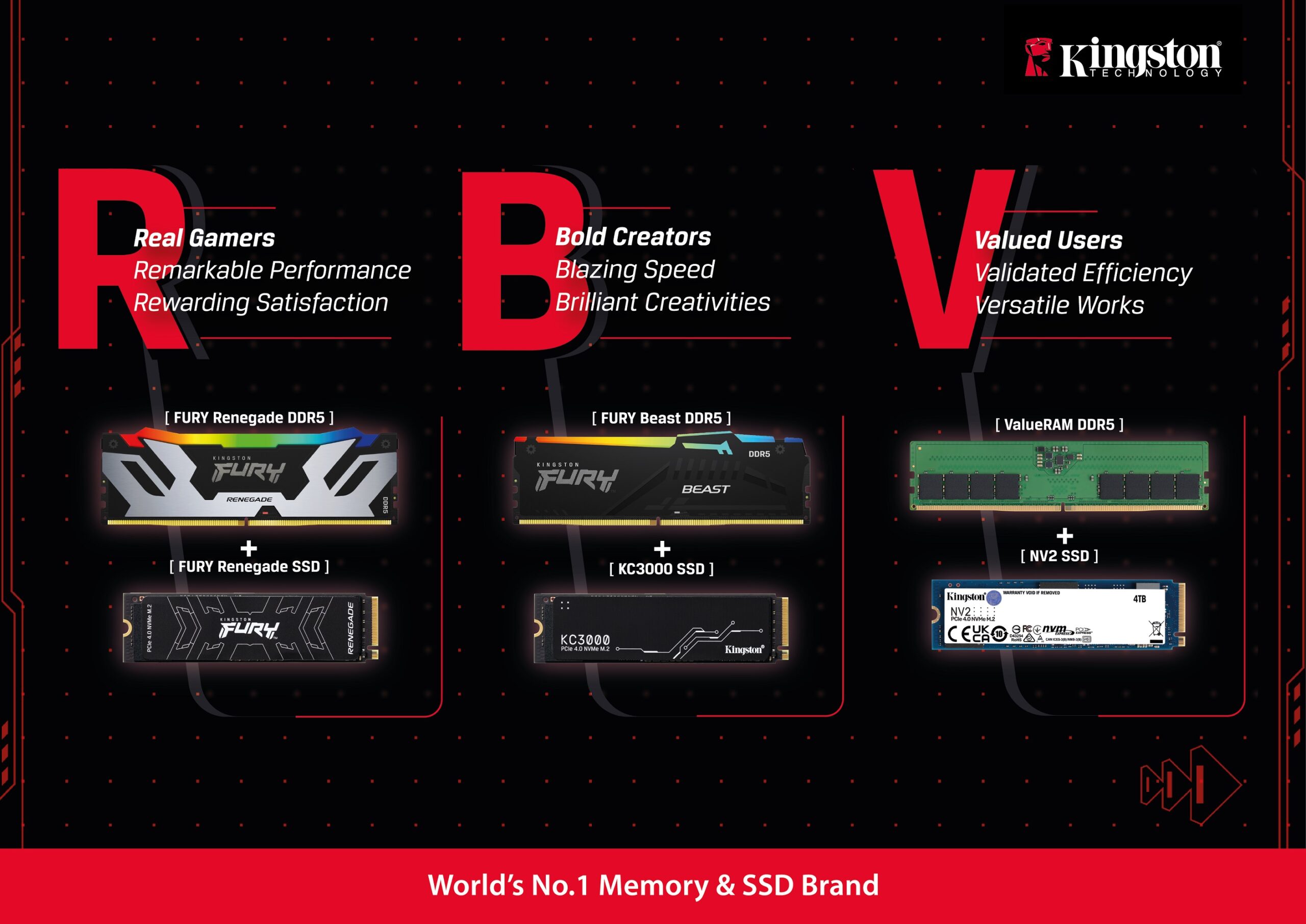 To amp-up the experiences of gaming enthusiasts, content creators, day-to-day users and everyone in between, Kingston has specially curated the RBV memory and SSD product combinations that guarantee compatibility and bring best-in-class performance.
Real Gamers: Highlighting remarkable performance and rewarding satisfaction, Kingston FURY Renegade DDR5 and Kingston FURY Renegade SSD will satisfy gamers and overclockers' need to push limits and achieve extreme performance.
Bold Creators: Ensuring blazing speed to spark brilliant creativities for all 2D & 3D designers, live streamers and content creators, the recommended solution of Kingston FURY Beast DDR5 and Kingston KC3000 SSD will give an extra edge while keeping up to demanding workloads.
Valued Users: Bringing validated efficiency for versatile works, Kingston ValueRAM DDR5 and Kingston NV2 SSD provide exceptional performance at an affordable price point for students, business owners, and users with general computing requirements.
"Kingston has always recognized the diverse needs of different kinds of PC users," said Kingston. "We are extremely excited to help them unlock the best performance that fits their requirements with our RBV memory and SSD solutions."
Starting from now till July 15th, 2023, with a purchase of any Kingston FURY Beast DRAM 32 GB+, Kingston FURY Renegade DRAM 32GB+, Kingston FURY Impact DDR5 32GB+, Kingston KC3000 SSD or any Kingston FURY Renegade SSD, customers will receive an exclusive Kingston portable fan for free. Moreover, customers can get a limited edition Kingston string bag with a purchase of Kingston FURY DDR4 3200MT/s 8GB *2, Kingston A400 SSD 1TB+, Kingston NV2 SSD 1TB+, or Kingston KC600 1TB+.
For more information visit kingston.com.
 Kingston can be found on:
Facebook: https://www.facebook.com/KingstonAPAC
YouTube: http://www.youtube.com/user/KingstonAPAC
About Kingston Technology
From big data, to laptops and PCs, to IoT-based devices like smart and wearable technology, to design-in and contract manufacturing, Kingston helps deliver the solutions used to live, work and play. The world's largest PC makers and cloud-hosting companies depend on Kingston for their manufacturing needs, and our passion fuels the technology the world uses every day. We strive beyond our products to see the bigger picture, to meet the needs of our customers and offer solutions that make a difference. To learn more about how Kingston Is With You, visit Kingston.com.