Summer comes and goes so fast. Before you know it, it's over! So while you are still feeling the heat, grab your bags and head on to your deserved summer vacation.
But before going to your favorite destination, it's a must to have the perfect gadget with you to capture all new memories you'll be experiencing in your great adventure. And OPPO's got you covered with its Big Summer Blowout!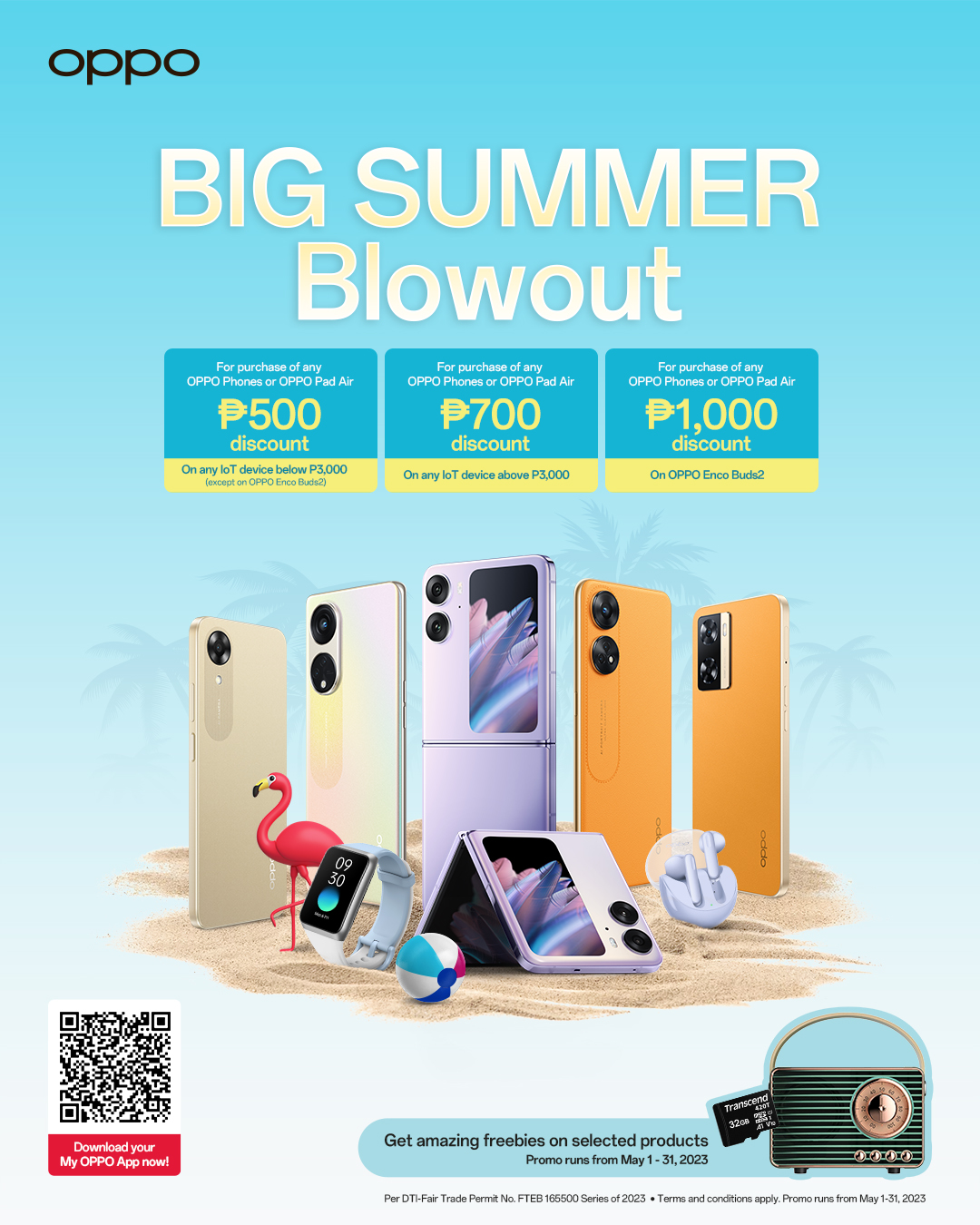 Huge discount up to PHP 1000 off!
Get a massive discount on your next OPPO IoT device purchase whenever you avail any OPPO smartphone like the Reno8 T, A77, Reno8 T 5G, and A17K, or when you avail the OPPO Pad Air.
Any purchase of an OPPO smartphone or OPPO Pad Air will entitle you to a PHP 500 discount on OPPO IoT devices below PHP 3,000. On the other hand, you may get a PHP 700 discount on your next IoT purchase that is above PHP 3,000. Lastly, enjoy a huge discount of PHP 1,000 on OPPO's Enco Air Buds2 when you avail any OPPO smartphone or OPPO Pad Air.
Price drop on your favorite OPPO smartphone
Temperatures might be rising, but a huge price drop on your favorite OPPO A16K is about to happen and will run only until May 15. So better be ready!
Whether you plan to buy the stylish OPPO Reno8 T series or OPPO A77 and A17K ideal for your jam packed summer activities, exciting discounts await at the OPPO's Big Summer Blowout!
The OPPO Big Summer Blowout will run until May 31, in all authorized OPPO offline stores in the Philippines. For more information on the promo, check out https://www.oppo.com/ph/ or OPPO Philippines' official social media pages on Facebook, YouTube, and TikTok.
To get the best care for your OPPO devices, visit your nearest OPPO Care Center or contact us on our website, via Facebook.