- Advertisement -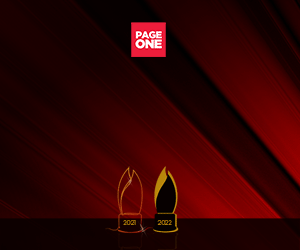 NOLITA or North of Little Italy is back at their first home, Bonifacio Global City and is now located at The Food District Signatures on 5th.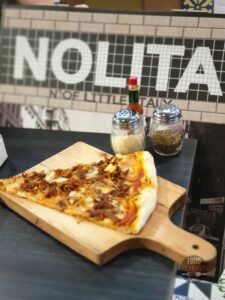 I heard that before, they have a full Italian menu in a restaurant setting but now, they have chosen to focus on serving pizzas and pasta in a more casual ambience where the hungry BGC peeps would go.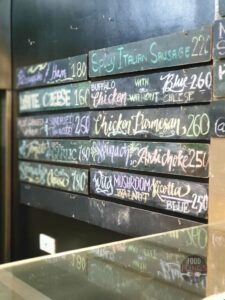 I checked their menu at the store and saw some pasta but it said "Available Pastas", so I guess this menu changes more often than their pizza lineup.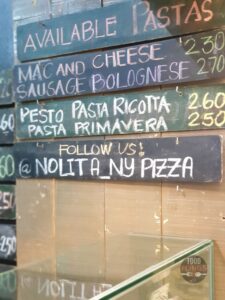 (F)OOD:
NOLITA is known for their 20-inch New York -style pizzas with well–loved flavor varieties. I was able to try their bestsellers.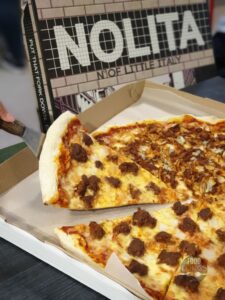 They have large slices with thin crust, the way I like them to be.
4-Cheese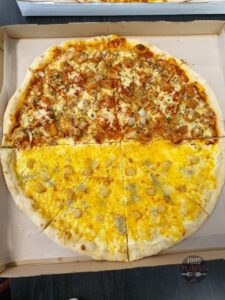 At the lower bottom of this picture. It is the least expensive but is one of my favorites! I am not sure of the cheeses that were used but I tasted mozarella and bleu cheese. Who will not be drawn to this when the smell alone invites you to eat it at once.
Pepperoni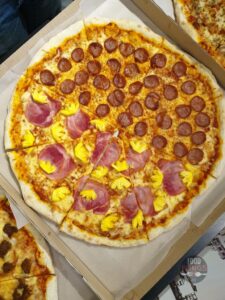 A classic pizza flavor that never goes out of style. The pizza was generous on the big slices of pepperoni that adds the salty and savory flavor to this pizza.
Spicy Italian Sausage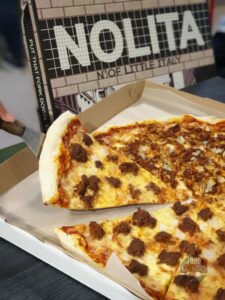 I love anything spicy because it adds excitement and challenge to any dish and this one is certainly one of that! One of my favorites here too!
Buffalo Chicken with Bleu Cheese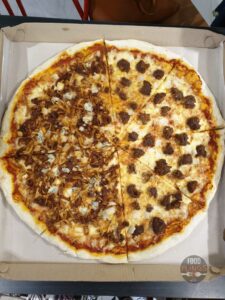 Love the spicy salty flavor of the buffalo chicken with the unique flavor and pungent aroma of bleu cheese. A uniquely interesting flavor but if you don't like the bleu cheese, you can order this without it.
Chicken Parmesan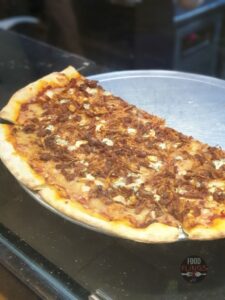 This is one of my favorite Italian dishes on a pizza. The salty parmesan gives additional flavor to this already tasty chicken pizza.
Pineapple And Ham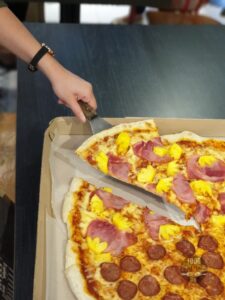 I am one of those who love pineapple on their pizza so fight me! (But please don't) There are big chunks of pineapples that look like golden crowns that gives the fruity sweetness to this savory pizza.
(A)MBIENCE:
I was not able to try them when they had their full-on restaurant but I bet it would have a nice homey Italian feel to it. Their new location doesn't give you the luxury of dining in a private space but more of the community feels which is giving you the freedom to share your 20-inch pizza with your barkada and get another food in return. There are too many distractions because of the wide food variety in this location but their main target, the pizza lovers, would certainly notice the large slices of pizzas on display.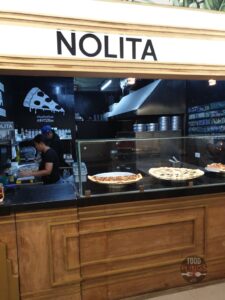 (B)UTLER SERVICE:
I was not able to personally interact with the servers but we were with the owner, Mr. Santos, who looks like Atom Araullo (yes!), and he was so kind and patient enough to explain to us the different flavors. He even let us try their pizza flavor for Lent, it has artichokes and bleu cheese.
NOLITA PIZZA
Location: Food District Signatures on 5th, One Bonifacio High Street, 5th Avenue, Bonifacio Global City, Taguig City
For more information on Nolita, follow them in their social media accounts:
FACEBOOK: NOLITA.PIZZA
INSTAGRAM: @nolita_nypizza