Featuring Sena Nakajima, Daiken Okudaira, and "One Piece" star Mackenyu, this boundary-pushing new Japanese Original series tells an epic story set across two different worlds and visual mediums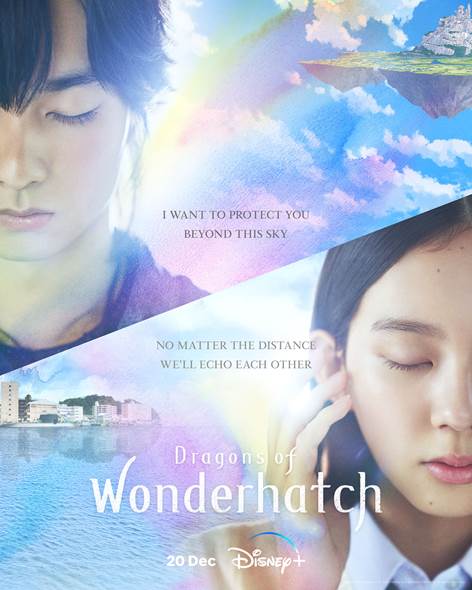 When an outcast from a collapsing anime world full of dragons meets a misfit from the "real world", an epic tale will unfold in Dragons of Wonderhatch, a revolutionary new Japanese Original series coming December 20 exclusively to Disney+.
Born in our "real world" with sound-color synesthesia – a unique ability that allows her to see colors when she hears certain sounds – Nagi has spent her entire life feeling like she doesn't belong. Dreaming of one day being able to fly, Nagi will soon come face to face with Thaim, another misfit from a different world. Born in Upananta, Thaim has long been treated like an outcast for his inability to hear the voices of the dragons that inhabit his animated land.
With the floating islands of Upananta slowly beginning to fall from the sky, the two misfits will set off on an epic adventure spanning both live-action and anime worlds in Dragons of Wonderhatch, coming this December exclusively to Disney+.
Starring Sena Nakajima (We Are Little Zombies) as "real world" high school student Nagi; Daiken Okudaira (Nemesis, Mother) as Thaim – a dragon rider from Upananta; and Mackenyu (One Piece) as dragon rider hero Aktha, Dragons of Wonderhatch is directed by live-action director Kentaro Hagiwara, animation director Takashi Otsuka, is produced by Production I.G (Ghost in the Shell), and features breathtaking work from world-renowned art director Chie Morimoto and character designer Posuka Demizu.
Fans of exceptional Japanese storytelling can sign-up to Disney+ today to enjoy instant access to unmissable stories including: Gannibal, a live-action story of a police officer who uncovers a horrifying secret in his sleepy Japanese village; Phoenix: Eden 17, an anime story about two lovers who flee earth in the hope of a better life on a distant planet only to discover their new home is worse than they could possibly have imagined; as well as a whole library of endless entertainment from across APAC and the rest of the world.
Stream the boundary-pushing Dragons of Wonderhatch from December 20, exclusively on Disney+.