Netflix has announced the third season of the Netflix Series "Alice in Borderland," the global mega-hit survival drama. Additionally, Netflix revealed that co-stars Kento Yamazaki and Tao Tsuchiya will reprise their roles, and Shinsuke Sato will continue to direct the series. Art featuring the Joker playing card was also unveiled to declare the triumphant return of "Alice in Borderland."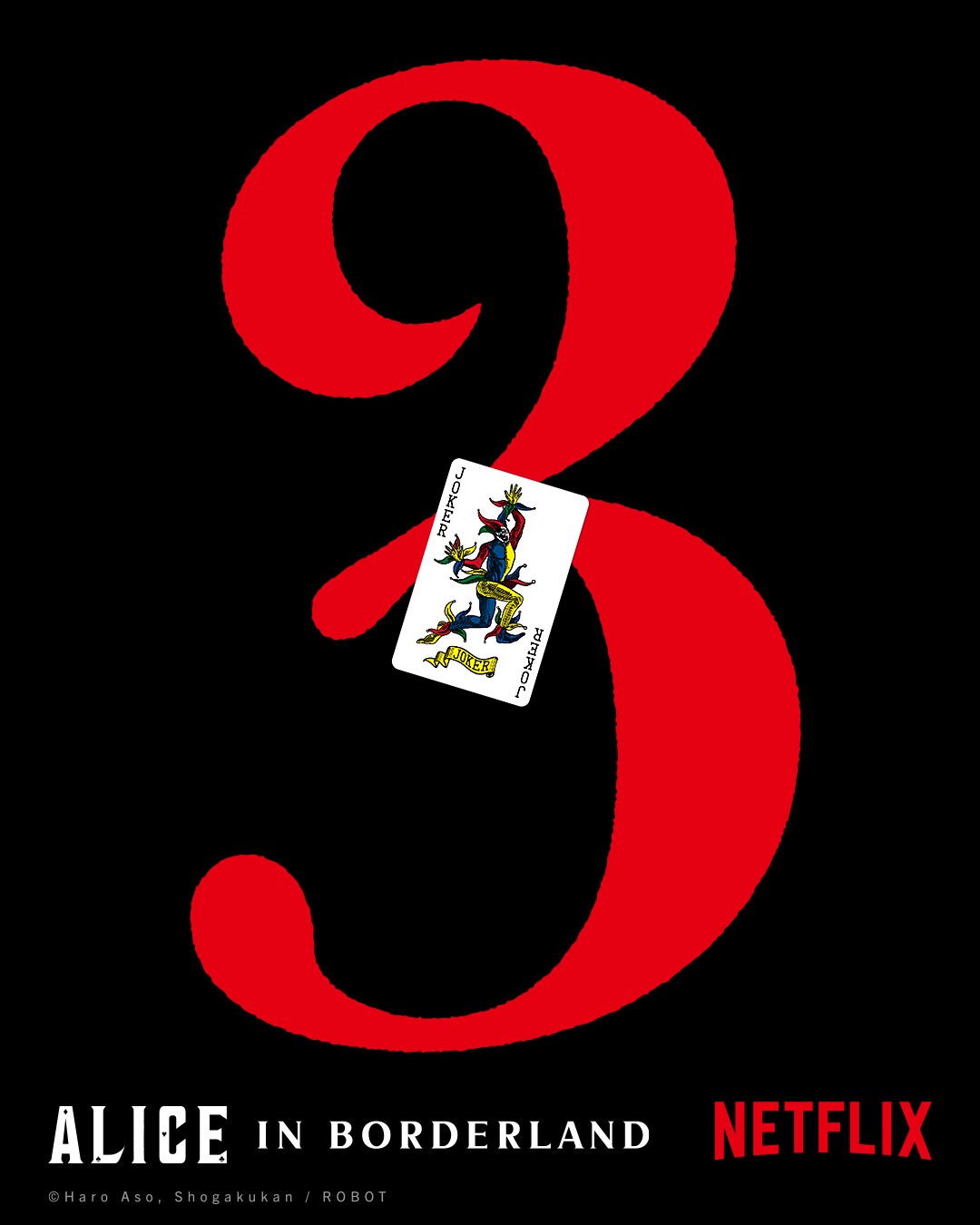 Season 1 of "Alice in Borderland," which began streaming in December 2020, entered the Top 10 in at least 70 countries and regions, and boasted an audience score of 96% on the review website Rotten Tomatoes. Following this debut, people across the globe voiced their anticipation for the next season. Season 2 of "Alice in Borderland" began streaming in December 2022 and entered the Top 10 in at least 90 countries and regions, taking the number one spot in 17 of them. In Japan, it held the top spot for 14 consecutive days. Just four weeks after its release, it had been watched for 200 million hours, the most of any work from Japan.
Keep your eyes open for Season 3 of the Netflix Series "Alice in Borderland," which continues to deliver a strong message to the entire world about what it means to "live"!
---
Credits:
Based on the manga "Alice in Borderland" by Haro Aso (published by Shogakukan in Shonen Sunday Comics)
Director: Shinsuke Sato
Cast: Kento Yamazaki and Tao Tsuchiya
Executive Producer: Kazutaka Sakamoto (Netflix)
Producer: Akira Morii, Tomoki Takase
Production Cooperation: THE SEVEN
Development/Production: ROBOT
© Haro Aso, Shogakukan / ROBOT
Netflix page: https://www.netflix.com/aliceinborderland
Netflix Series "Alice in Borderland" Seasons 1 and 2 streaming now, only on Netflix
---
"Alice in Borderland" Season 2 Story
Arisu and his companions have gathered all the numbered playing cards by surviving and clearing many outrageous games in the Borderland. After Mira declares the start of a new challenge, Arisu heads to Shibuya with Usagi and the others to clear the face cards, but they are suddenly ambushed by a hail of bullets. Hypothesizing that this attacker will hold back while they are participating in another game, Arisu and his companions head to another game venue, where they are met by the overwhelmingly charismatic Kyuma. While facing him as an opponent in the game, Arisu is touched by Kyuma's approach to life and begins to consider the meaning of living. Meanwhile, Usagi begins to waver in her decision to return to the real world, which drove the father she respected to his death.
---
"Alice in Borderland" Season 1 Story
Constantly compared to his high-achieving younger brother, Arisu spends his gloomy days unable to find any meaning in life. When he goes out with his best friends Chota and Karube — the only sparks in his dreary life — the city suddenly becomes devoid of people. While feeling some sense of unease, the three young men are elated at this newfound freedom. However, this is the "Borderland," a place where the inhabitants must clear various "games" to survive. Arisu, who uses his observational and decision-making skills to clear the games, meets Usagi, a climber who has cleared games on her own without making any companions. Through this unbelievable life-or-death unbelievable experience, they face head-on the question of what "living" means.
---
"Alice in Borderland" Original Manga
Ryohei Arisu wants to escape his bleak everyday life. One day, while hanging out with his friends Karube and Chota, the town they knew suddenly becomes completely empty. As they search for answers, they are forced into irrational "games" where players may lose their lives if they take a wrong step. Can Arisu clear all of the games and make it back alive? The best-selling masterpiece of survival suspense was a hit even in its digital format. All 18 volumes of the original manga and both volumes of the new sequel "Alice in Borderland: Retry" are currently in publication from Shogakukan's Shonen Sunday Comics.