We Filipinos are known for our close family ties. Some of us may even have our extended families live nearby in our own family compounds and sometimes even inside our own homes. This is evident most especially when we have our grandparents with us, our Lolos and Lolas.
Our Lolo and Lolas are one of the sources of unconditional love and care, and of course, great stories of old times aside from being a well of wise and practical information and advice.
Just like Lolo and Lola's love and care, Lola Remedios® created an all-natural remedy for her Apos experiencing "lamig" but who are busy taking care of their beloved families. Let Lola Remedios® take care of you.
Lola Remedios® is made from a blend of traditional and all-natural ingredients (ginger, honey, mint, and clove) for the relief of one's "mabigat na pakiramdam" or just a general feeling of unwellness or being under the weather.
So, what causes this feeling of "lamig"?
Sudden or constant weather changes (init-lamig, lamig-init)
Exposure to rain
Too much exposure to cold
In as much as we want to avoid it, we are all prone to "Lamig" and its manifestations: heavy feeling, body malaise and muscle lumps typically felt at the back.
Don't you worry, Lola Remedios® is to the rescue. Food Supplement Syrup is your all-natural just-right Remedio sa Lamig! You don't have to worry about side effects in the long-term as it gives a Soothing Relief from Lamig.
Lola Remedios® is a unique formulation inspired by our Lolas' traditional remedies; but now blended in a convenient, ready-to drink sachet and can be bought for just Php 10.
I personally tried it when i was not feeling well, just feeling tired. It has that menthol taste that gave me that soothing relief both to my nose and to my throat. In a matter of minutes, I felt that I was ready to go on another round of food pictorials. As it is all-natural, I do not worry of any side effects.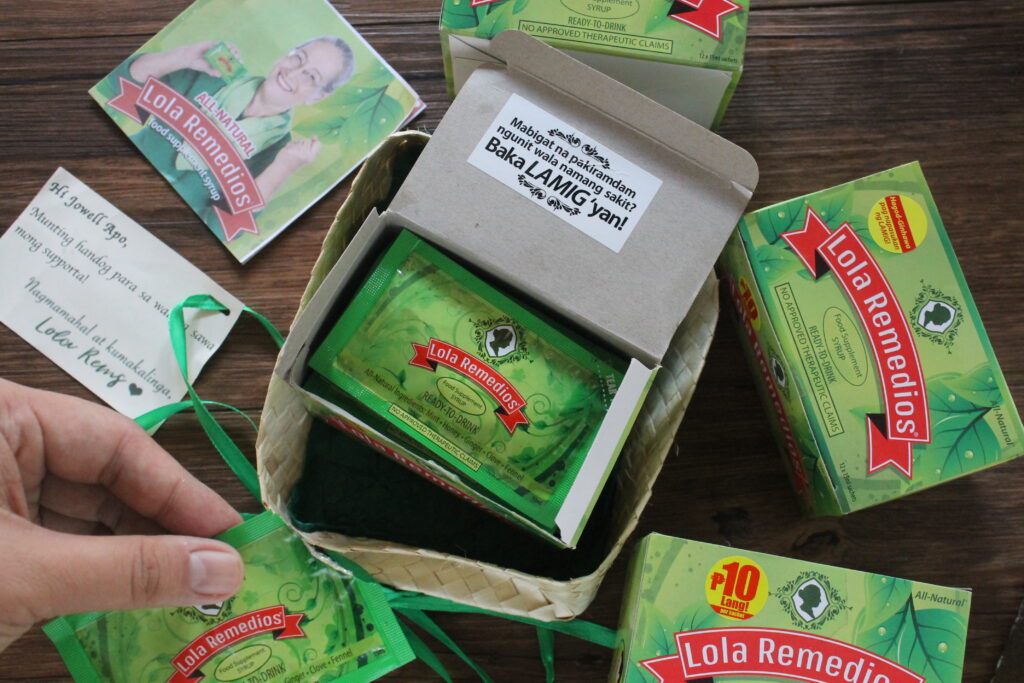 Our Lolas are always close-to-home and so is Lola Remedios®, just pay a visit to the following stores nationwide: Mercury Drug, 7 Eleven, Watsons, Sari-sari stores, and your local botikas.
NOTE: Most of the images came from the Lola Remedios® website.