I love Chinese cuisine for it's many different oriental flavors and of course, the serving size. Pinoys also serve Chinese dishes in many Filipino celebrations like pansit for long life or serving everybody's favorite lumpiang shanghai. We must admit that the Chinese cuisine greatly influenced our way of cooking and eating just like how it is being celebratred at the formerly known as Panciteria Lido, now, Lido Cocina Tsina.
Lido Cocina Tsina has been around for quite a time, 80 years that is, and it has been one of our go-to places for Chinese cuisine. No wonder why because they have over a hundred of yummy Chinese dishes to choose from, name it, they have it and I was happy I was able to try Lido's bestsellers here at their Shaw Boulevard branch.
Now, for my F.A.B. review!
(F)OOD:
Aside from offering Classic Chinese favorites like noodles, dimsum, and siopao, Mr. Lido, chef and founder of Lido Cocina Tsina, would roast pork loin every morning. It has then become Lido's signature favorite dish of sweet, smokey and salty roasted pork asado that customers keep coming back for. Now, here are some of their bestsellers.
Manchurian Wings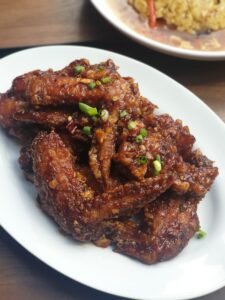 This dish is inspired by the Manchurian's Sweet and Spicy mix, coated with a gingery sweet-and-spicy oriental sauce. The wings are crispy and flavorful just by looking at it,  and would make you want to eat it at once.
Shrimp Foo-Yong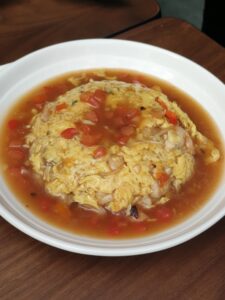 This yummy egg omelette with shrimps, 3 kinds of mushrooms (black, straw and button), bean sprouts, bell peppers and onions is a staple order when I go here. It is served with a nice and light oyster sauce and can serve 2-3 persons.
Pugon Roasted Asado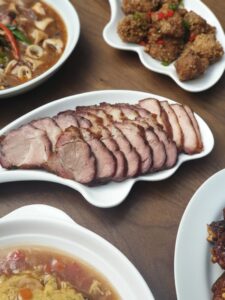 This is Lido's specialty of cured porkloin, slow-roasted in brick oven using firewood until tender. This is Lido's more than 80 yr old secret recipe and freshly roasted every morning. Has the right mix of sweet and salty and is perfect to be accompanied with bread or with rice.
Lumpiang Shanghai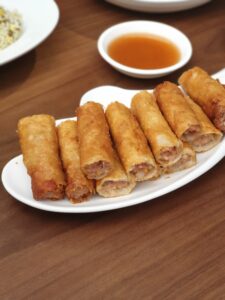 I am not a fan of shanghai, I cannot eat more than 2 pieces but this one is a very tasty and satisfying version of lumpiang shanghai! Premium pork mix rolled in lumpia wrapper and fried to perfection. The sauce is also a winner so you should better try this too!
Spareribs in Salt & Pepper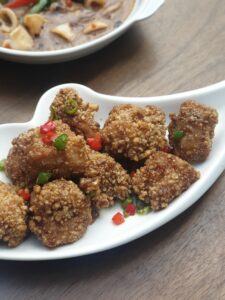 Crispy pork spareribs sauteed in chinese five spice mix served with house made vinegar. Another staple order for me whenever I am in these kinds of restaurants. I love the crunchy breading when dipped into that spiced vinegar.
Stir-fried Seasonal Vegetables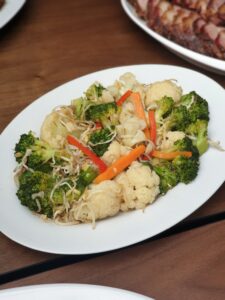 Stir fried broccoli, beansprouts and mixed vegetables cooked with premium seasonings. A must-order for the veggie lover.
Squid in Chili and Taosi Sauce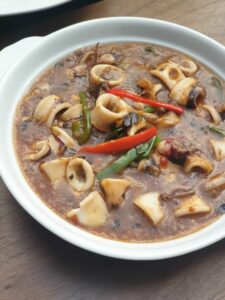 Squid, bell peppers and onions sauteed in chili and taosi sauce. I love the balance of spicy and kinda sweet taste but this was not a crowd favorite from our group and I wonder why. The squid was tender and the sauce did not have that overpowering fishy taste.
Beef with Shallot Fried Rice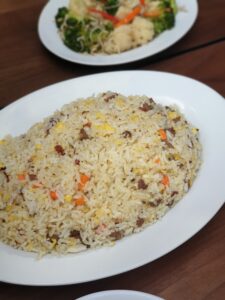 What is a Filipino lunch without rice? This one is beef fried rice with carrots, ginger, and egg sauteed with their house made fragrant shallots. Love how tender the beef was and how this is a complete dish in itself.
Chunky Pork Siomai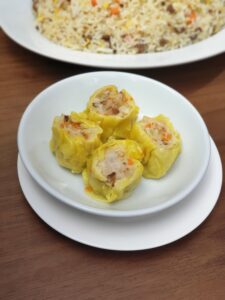 They were serious when they said it was chunky because this one's a full-packed piece of siomai of flavorful mixed pork meat and veggies! Totally satisfying!
Buchi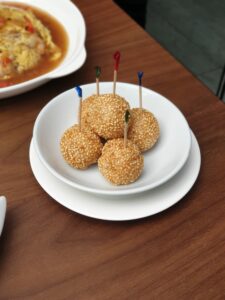 Deep fried sesame balls with lotus cream filling. The perfect sweet ending to your yummy Chinese lunch.
Siphon-brewed coffee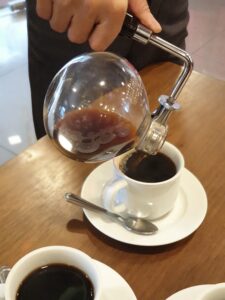 Love how strong the coffee is but Lido doesn't want to disclose the coffee bean mix in this great coffee. You can get this with their breakfast meals or ala carte dishes.
The food here are uniquely flavorful on it's own and are reasonably priced too! I am sure that most of the serving sizes are really meant for families or big groups so gather up your friends and family and dine here.
(A)MBIENCE: 
Lido's Shaw Boulevard branch uses the traditional Chinese colors of red and yellow/gold for the more authentic oriental feels. There are strips of what seems to be red lanterns on the wall while the ceilings are adorned with circles of gold and purple that add the modern touches to the place.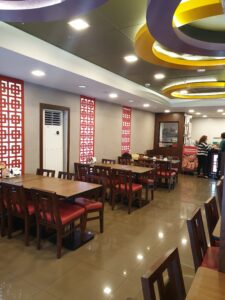 The place is clean and simple just to let you enjoy your food without any distractions.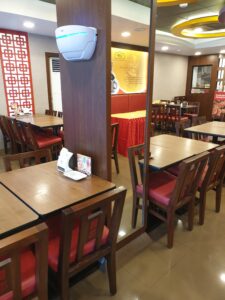 12 of their 16 branches have function rooms which are ideal for any meeting and other private celebrations.
The space is so versatile that it can accommodate a single person to a large group of hungry foodies.
(B)UTLER SERVICE:
The servers were friendly and fast enough to provide us with our requests.
LIDO COCINA TSINA
Location: Shaw Plaza One Building, 561 Shaw Boulevard, Highway Hills, Mandaluyong City
For more information on Lido Cocina Tsina and their other branches, follow them in their social media accounts:
FACEBOOK: Lido Cocina Tsina
INSTAGRAM: @LidoCocinaTsinaMain
WEBSITE: www.lidodelivery.com