The 20th Grand Wine Experience is more than just a wine and spirits event. It is a celebration of life, a toast to the future, and a tribute to the past. It is a symbol of resilience, of how we can overcome adversity and emerge stronger and better. This year's theme is Bud Break, which captures the essence of renewal and optimism.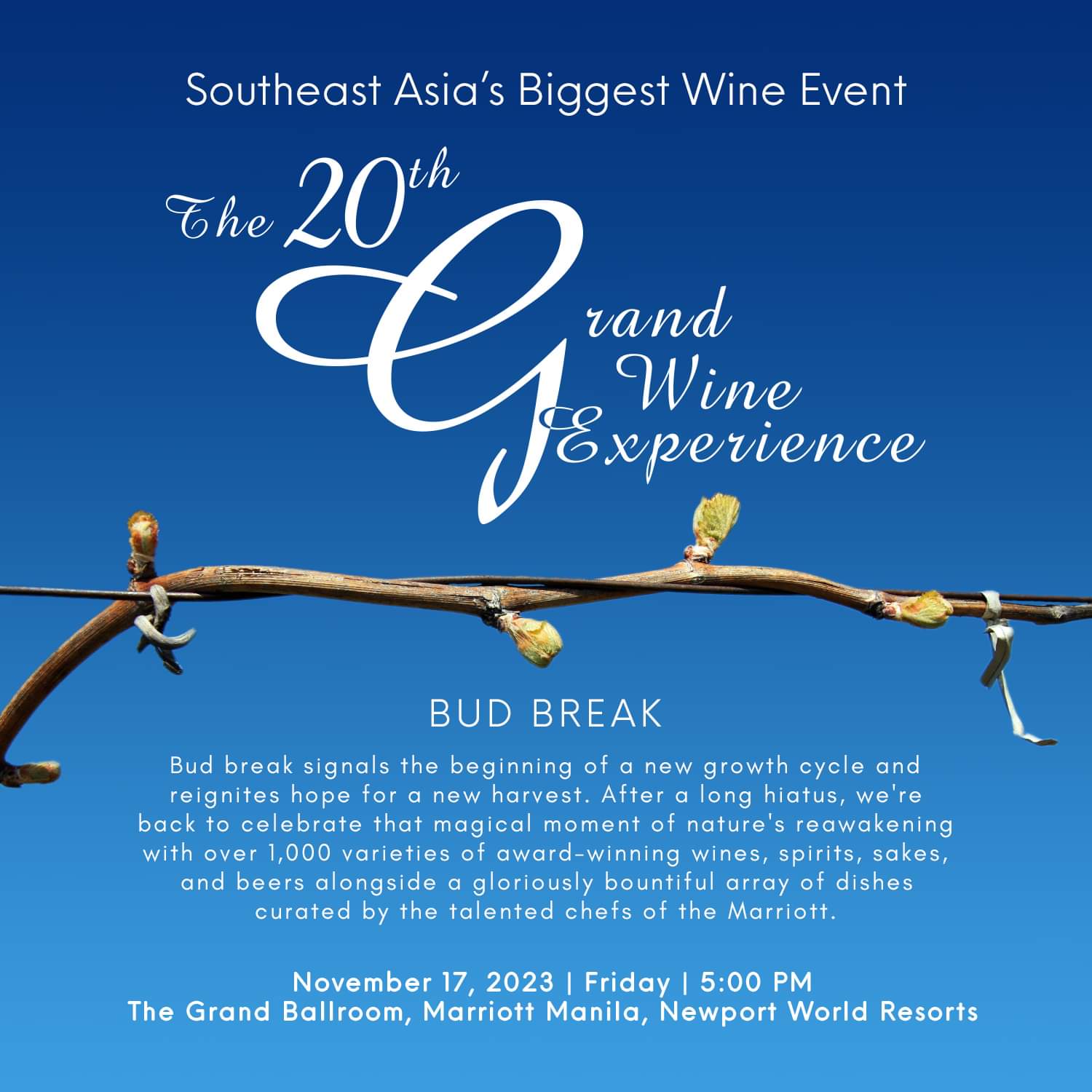 Bud break is the first stage of the grapevine's annual cycle, when the dormant buds burst into life and produce new shoots. It is a critical time for the vineyard, as it determines the potential yield and quality of the grapes. It is also a beautiful sight, as the green leaves contrast with the brown branches and create a stunning landscape.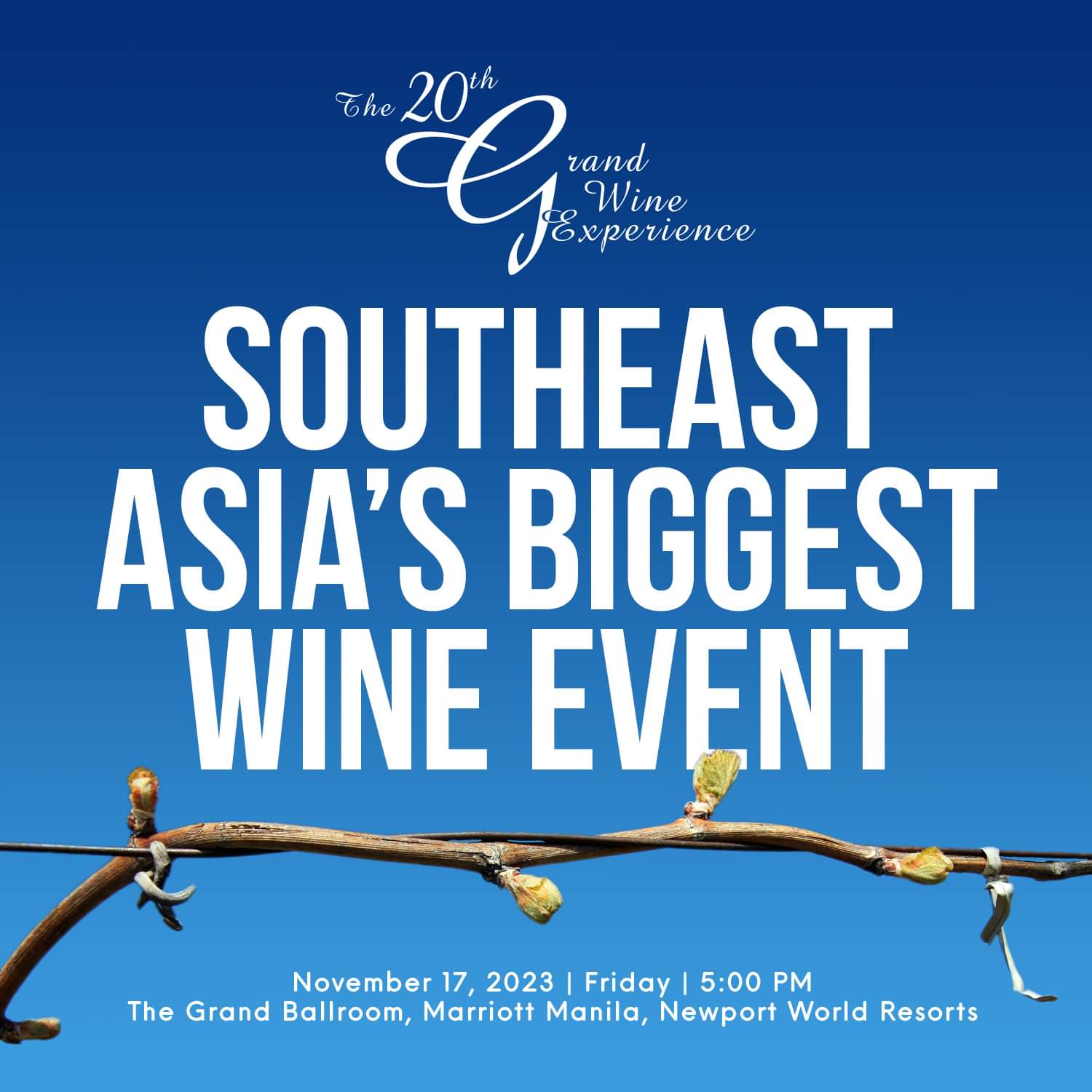 The Grand Wine Experience is the ultimate destination for wine and spirits lovers, connoisseurs, and enthusiasts. It is the largest and most prestigious event of its kind in Southeast Asia, featuring over 1000 wines, spirits, sakes, and beers from around the world, curated by experts and presented by renowned winemakers and distillers. It is also a gastronomic playground, with exquisite dishes prepared by top chefs to complement the libations. It is a night of indulgence, exploration, discovery, and enjoyment.
The 20th Grand Wine Experience promises to be the most memorable edition yet, as it marks two decades of excellence and innovation. It also coincides with the reopening of the hospitality industry after a long period of lockdowns and restrictions due to the pandemic. It is a perfect opportunity to reconnect with old friends, make new ones, and savor the finer things in life.
The 20th Grand Wine Experience will take place on November 17, 2023 at the Marriott Grand Ballroom. The doors will open at 5pm and the event will last until midnight. Tickets are limited and sell out fast, so don't miss this chance to be part of history. Reserve your tickets now and join us for an unforgettable night of Bud Break.
—
Use the expert assistance of your favorite Personal Shopper or dial our Personal Shopper On-Call hotline 0917-111-1952 from 10:00am to 7:00pm. Contact your preferred Rustan's store to request for the personal shopper service, and a Sales Associate will be assigned to assist you with your inquiries, order confirmation and payment transactions. Fulfilled orders can be collected via curbside pick-up or items can be delivered to you for free, for a minimum purchase requirement of P5,000.*
Be the first to know about the latest updates and amazing offers on your favorite brands by joining the Rustan's LIVE Viber Community http://rstns.shop/RustansViber
Follow RustansPH on Instagram and Facebook, and visit their website on www.Rustans.com
RUSTAN'S DEPARTMENT STORE PICK-UP POINTS AND STORE HOURS:
Rustan's Makati
Main Entrance, Courtyard Drive, facing Glorietta 5
Monday to Sunday: 10:00am to 9:00pm
Rustan's Shangri-La
Main Entrance, Internal Road of Shangri-La Plaza
Monday to Sunday 10:00am to 9:00pm
Rustan's Alabang
Main Entrance facing Parking Lot of Alabang Town Center, Commerce Avenue
Monday to Friday: 11:00am to 9:00pm
Saturday & Sunday: 10:00am to 9:00pm
Rustan's Gateway
Main Entrance, General Aguinaldo Avenue facing New Frontier Theater
Monday to Friday: 11:00am to 9:00pm
Saturday & Sunday: 10:00am to 9:00pm
Rustan's Cebu
Main Entrance, Cardinal Rosales Avenue
Monday to Sunday 10:00am to 9:00pm
For purchases below P5,000, a fixed delivery fee of P200 for Metro Manila and Cebu addresses, and P300 for provincial areas will apply.
Extra-large packages will be charged P500 delivery fee for addresses within Luzon, while P750 is charged for delivery to Visayas or Mindanao.
Complete Terms & Conditions and additional information about the Personal Shopper on Call