It's Easter celebration once again! And with it comes the eggs and bunnies that symbolize the celebration, along with the fun traditions and customs that kids and kids-at-heart have come to enjoy.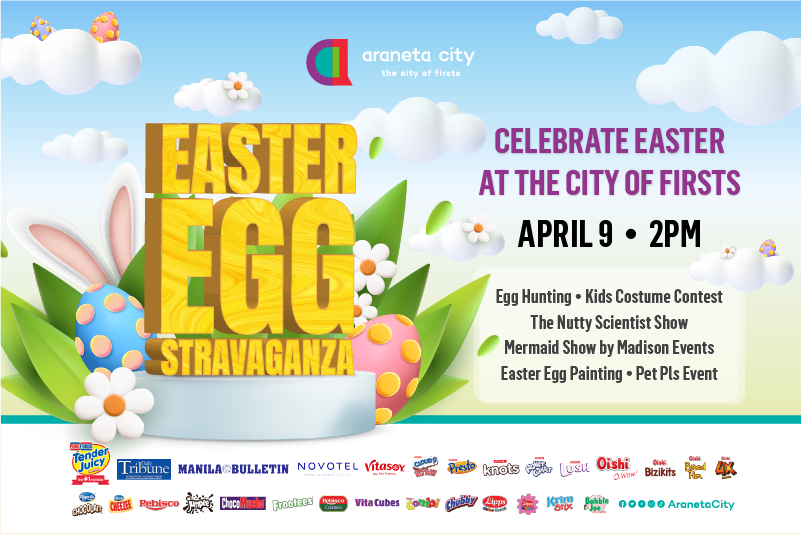 To mark the season in a fun and egg-citing way, Araneta City, the City of Firsts, has prepared an Easter Egg-stravagant celebration that the entire family can enjoy:
Color the season through the "Paint the City Egg" contest.
Hop on over to Ali Mall and show your artistic side by painting one of the giant egg displays at the activity area. You don't just let your creativity run wild, but you also get a chance to win eggs-traordinary prizes.
The first place winner gets ₱8,000, second place takes home ₱5,000, and third place takes home a prize of ₱3,000! So check out the social media accounts of Araneta City for more details on how to join.
Strut your Easter-inspired style and join the eggs-travagant activities.
It's going to be an egg-citing day at Araneta City's Next Top Easter Kids costume contest! Head to Gateway Mall or Ali Mall on April 9 for a day full of fun and activities. Registration in both malls starts at 11:00am, to be followed by the opening of photo booth, kiddie salon, and the traditional costume contest! The kids with the most egg-ceptional costumes will win some egg-stra special prizes!
At Gateway Mall, there will also be Nutty Scientists Experiment Show, Kiddie Salon, and Caricature Maker. And over at Ali Mall, catch the Face Painter booth and the performance of Madison Events. So, come out and enjoy the festivities with the whole family!
Make Easter Sunday egg-ceptionally fun by joining the egg hunt.
Easter won't be complete without the egg hunt! So apart from the mentioned activities, you may also catch the Adventures of the Egg Hunters at Gateway Mall and Ali Mall on April 9.
Join the fun mall-wide scavenger hunt where you'll search high and low for Easter eggs. Keep your eyes peeled for lessees with special Easter egg signage and you might find your elusive target! The whole family will surely have a blast with plenty of egg-hunting fun and special prizes waiting to be discovered at this Easter egg hunt.
Have a hippity-hopping day at the special Easter mall playground.
Kids are in for a treat at Farmers Plaza Giant Playground this Easter! There will be inflatable playgrounds where the little ones can bounce and slide to their heart's content. And the fun doesn't stop there, as you will also enjoy an egg-citing magic/puppet show and receive some egg-stra special giveaways.
So if you're looking for a place to have an egg-cellent time with the whole family, come on out to Farmers Plaza and bounce, slide, and hop your way through the day!
Make Easter more memorable with the perfect season snaps.
Everywhere you go at the City of Firsts, expect to see a lot of egg-straordinary Easter decor! Whether you're at the Gateway Mall or Ali Mall or Farmers Plaza, you'll be treated to festive Easter-themed decorations that are perfect for your next IG or TikTok post.
Don't miss the Easter eggs, bunnies, and flowers that will transport you to an Easter wonderland. So don't wait, come and join the Easter fun!