While planning for the Palawan Baragatan Festival 2022 visit, we were quite sure that the island will be jam-packed full of tired visitors who will enjoy all the festivities during the day and need a comfortable stay to get those much-needed zzzs at night.
We were lucky enough to be hosted by Go Hotels Puerto Princesa Palawan, our home away from home while at Puerto Princesa, Palawan.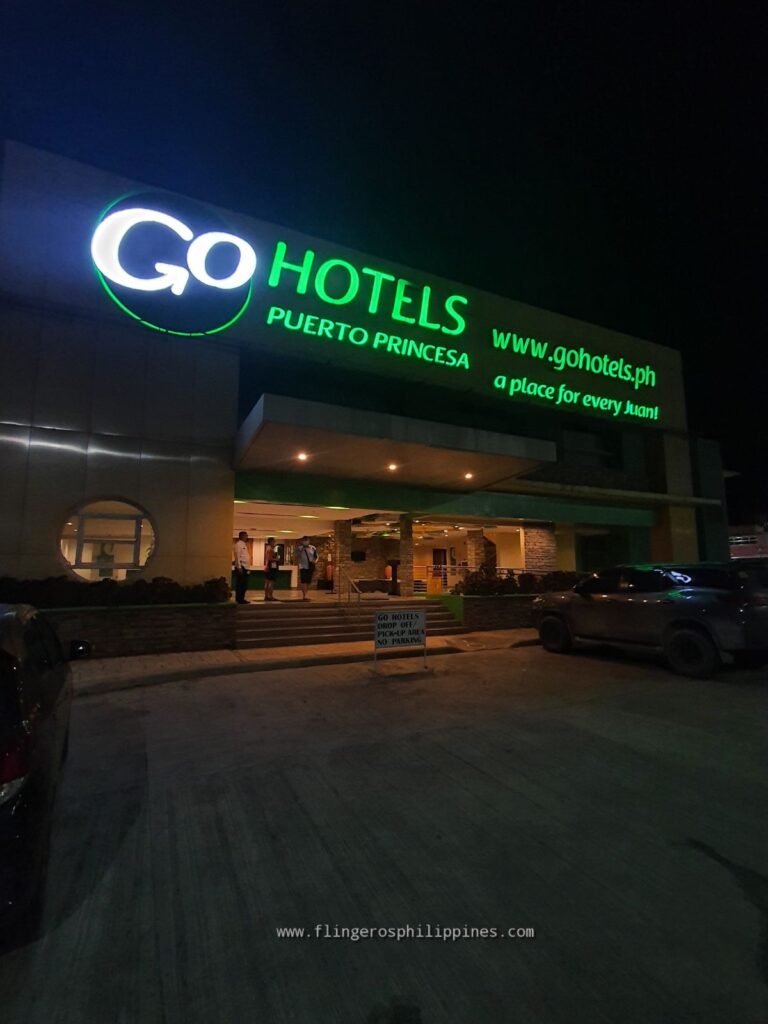 WELCOME TO GO HOTELS PUERTO PRINCESA PALAWAN
GO Hotels Puerto Princesa offers affordable accommodation without compromising quality service and a comfortable stay to their guests. You would not miss the hotel not only because of its vibrant and inviting green and yellow color combination and their GO Hotels logo but also because the location is ideal. They are conveniently located at the heart of Puerto Princesa, close to Palawan City travel destinations and a Robinsons Mall, not to mention that it is like 15 to 20 minutes from the Puerto Princesa airport.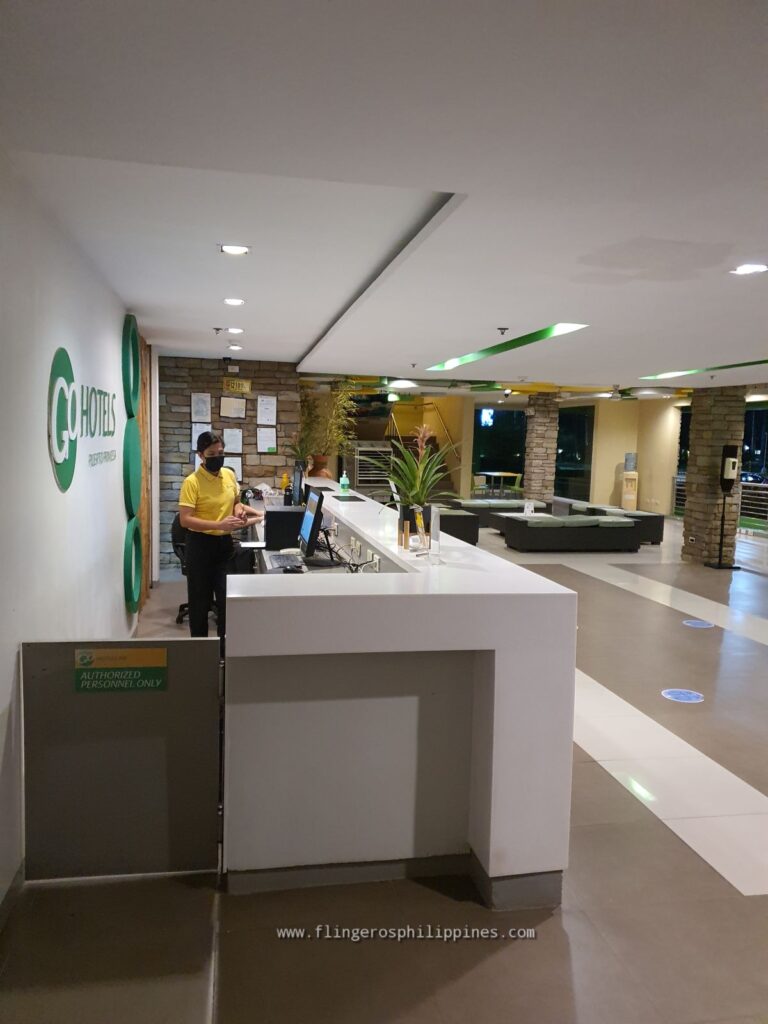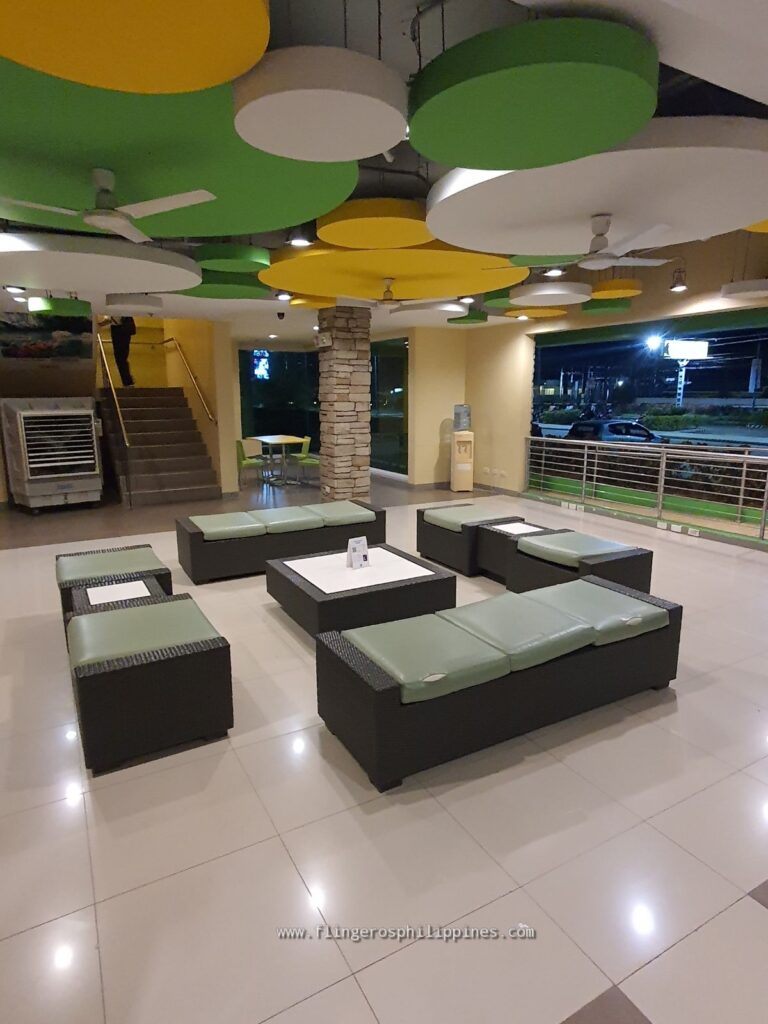 We arrived at the hotel in the afternoon to drop off our bags and planned to go to dinner afterward. What I instantly noticed is their spacious and open-air lounge which is perfect, especially during this pandemic.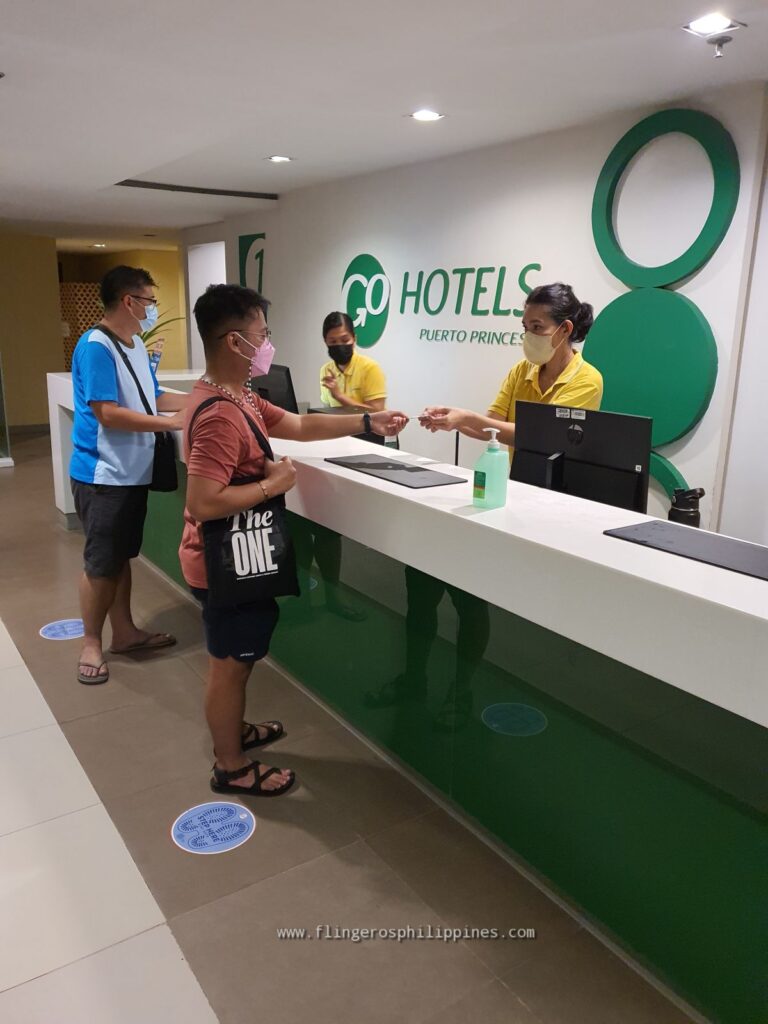 The receptionist welcomed us and gave us a key card for us to have some rest and get ready for our dinner. The hotel has no elevator but is quite fitting because it only has two floors, but don't worry since the hotel personnel is very prompt in assisting in bringing your luggage to your room.
A LOOK INSIDE OUR ROOM
Go Hotels Puerto Princesa has 108 rooms (63 Twin, 45 Queen) and we were wondering which we will be given to us.  So, me and my roomie, Jan Darren of Kapampangan Traveller went to our room all stressed, weary from a day of travel but very eager to see our room.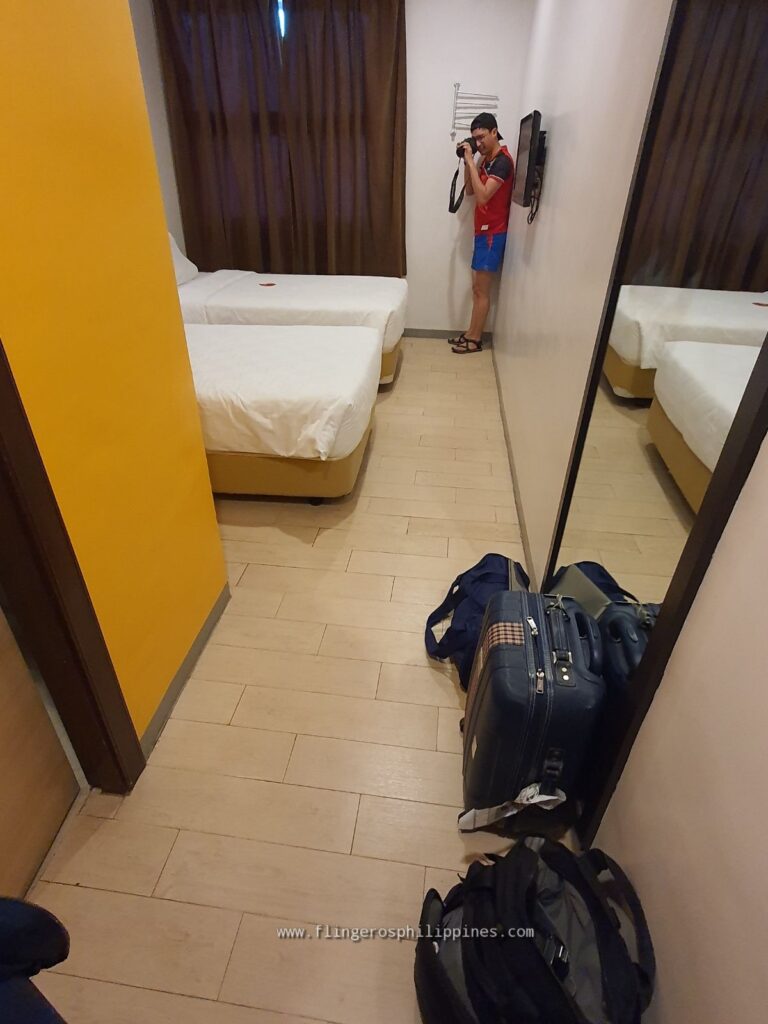 And we were not disappointed! It was a room comfortably big enough for two which has a very inviting twin bed and like a memory pillow, yes friends a memory pillow, that I instantly spotted (according to their website, it is a chiropractic and high-quality non-allergenic pillow). What more can I ask for?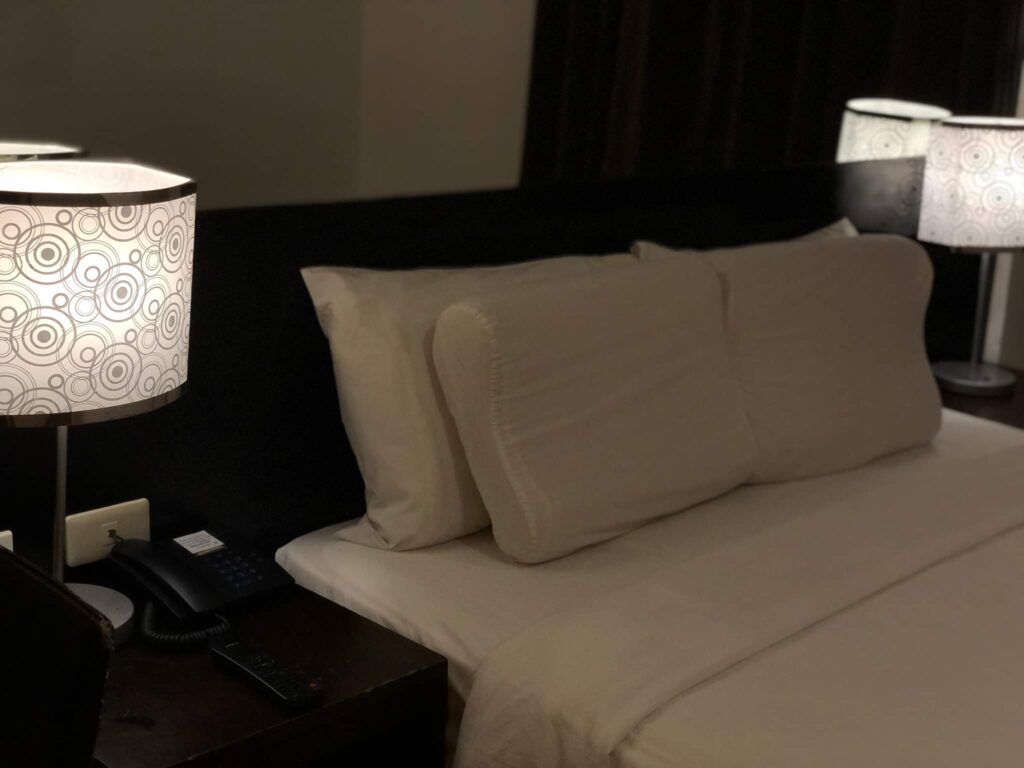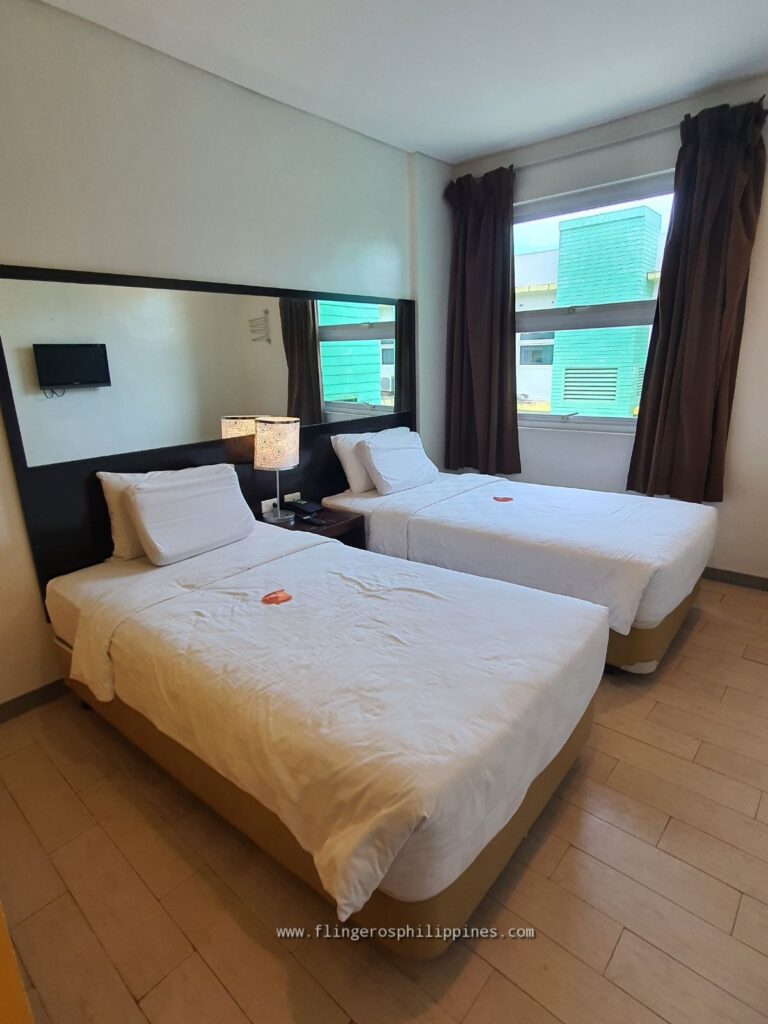 If that is not enough, they had fast internet service and a cute nook where you can do your business and workation needs.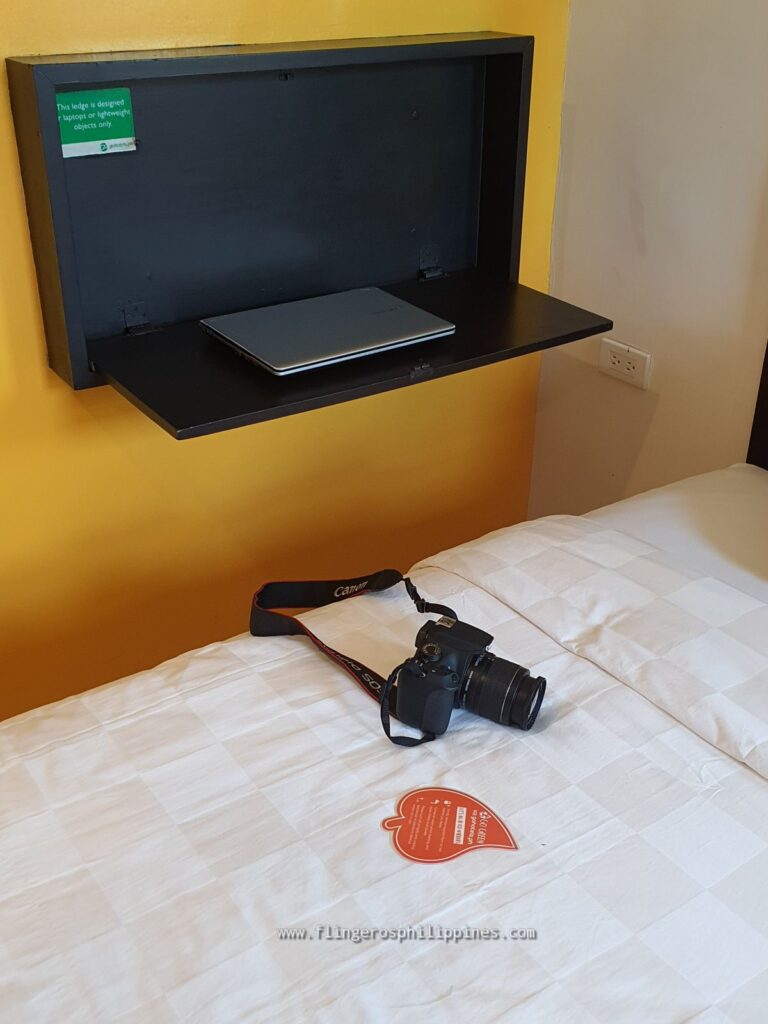 They also have an on-suite bathroom with a hot & cold overhead rain shower with basic toiletries and towels provided, which surely feels more than a budget hotel.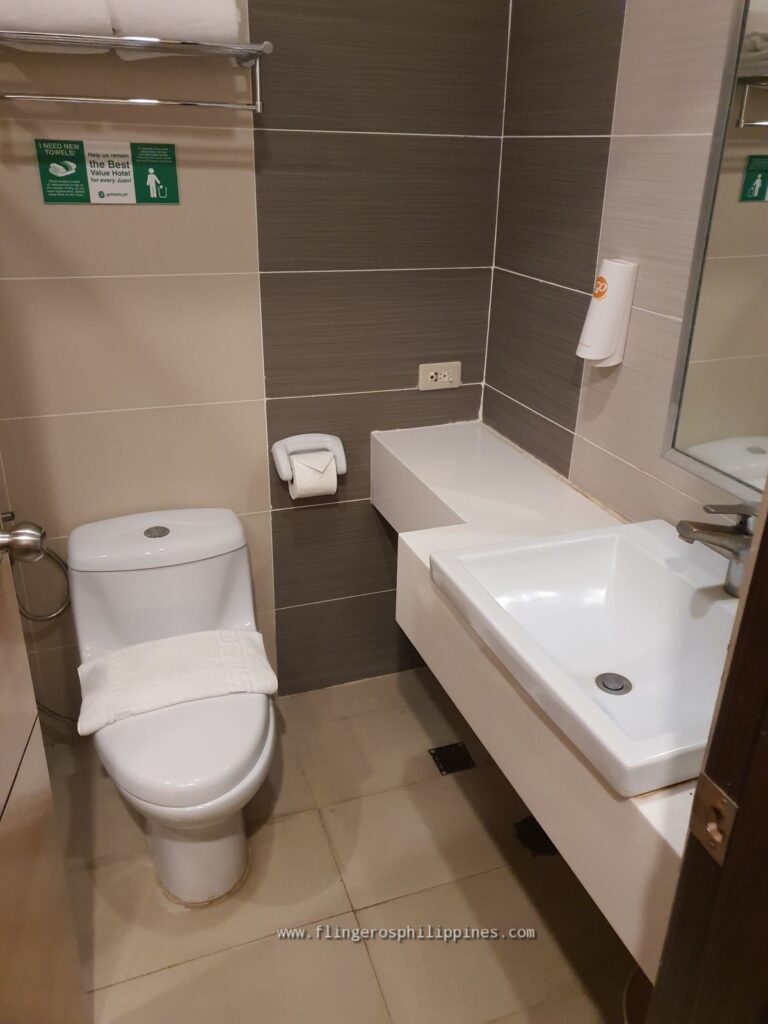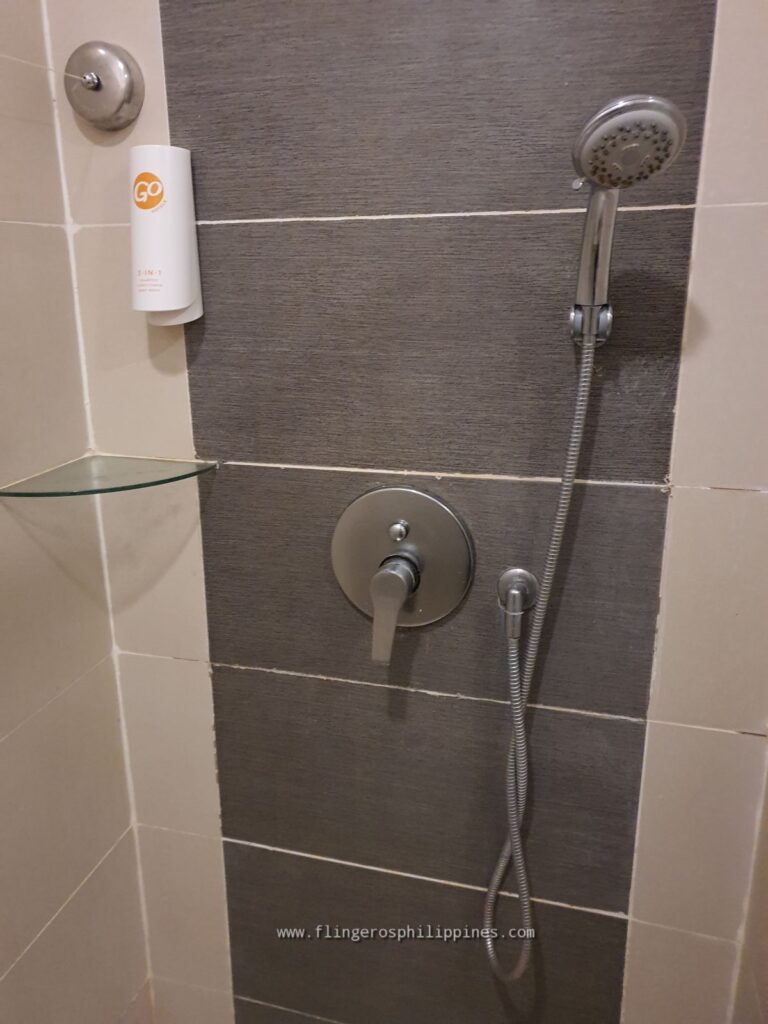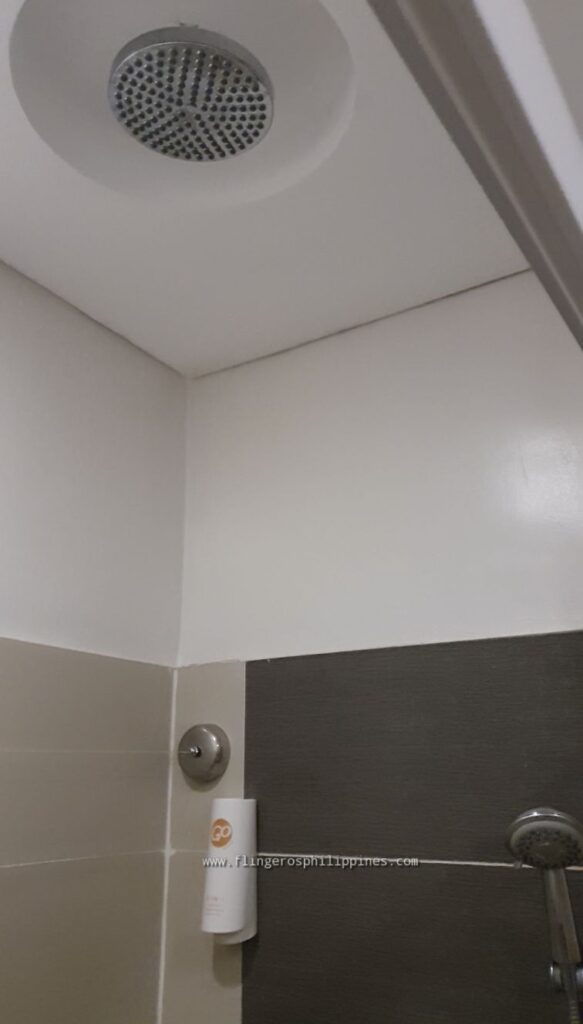 It was a comfortable sleep because our room had controllable area lighting and even our very own control for our room's air conditioning unit.
If you want to be cozier with your roommate, I am sure you would like to opt for their room with a Queen Bed.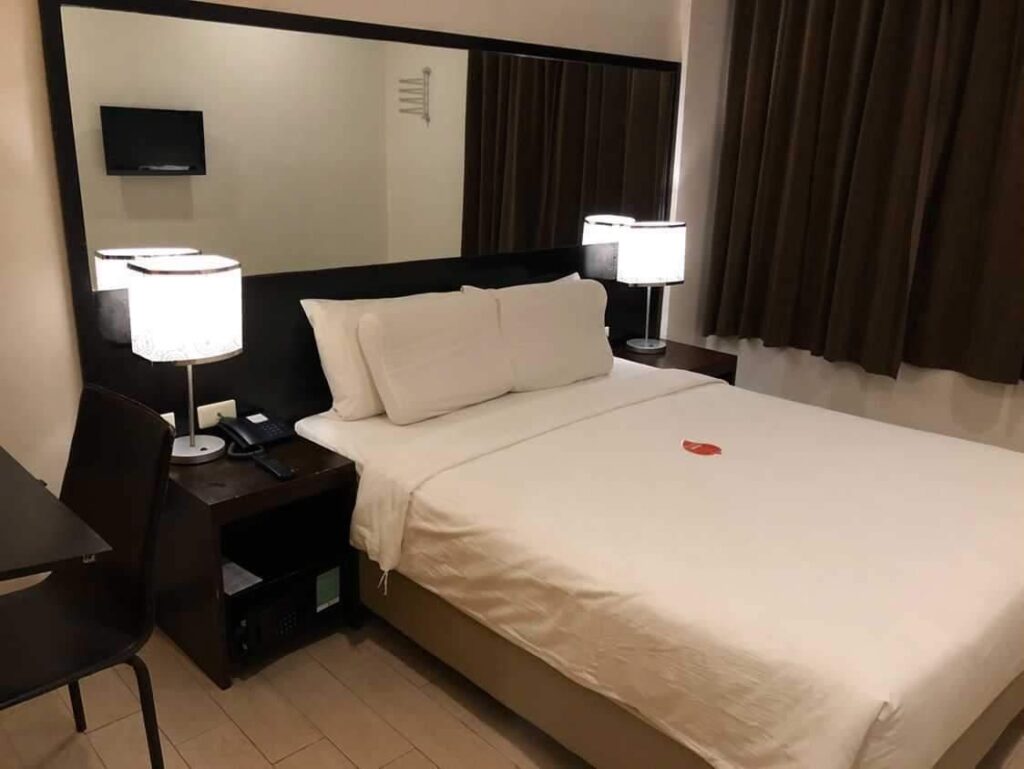 It can also be noted that GO Hotels – Puerto Princesa has the green heart of an Eco-Warrior. Do not miss the tips on how you can help save our environment by doing simple things inside your room.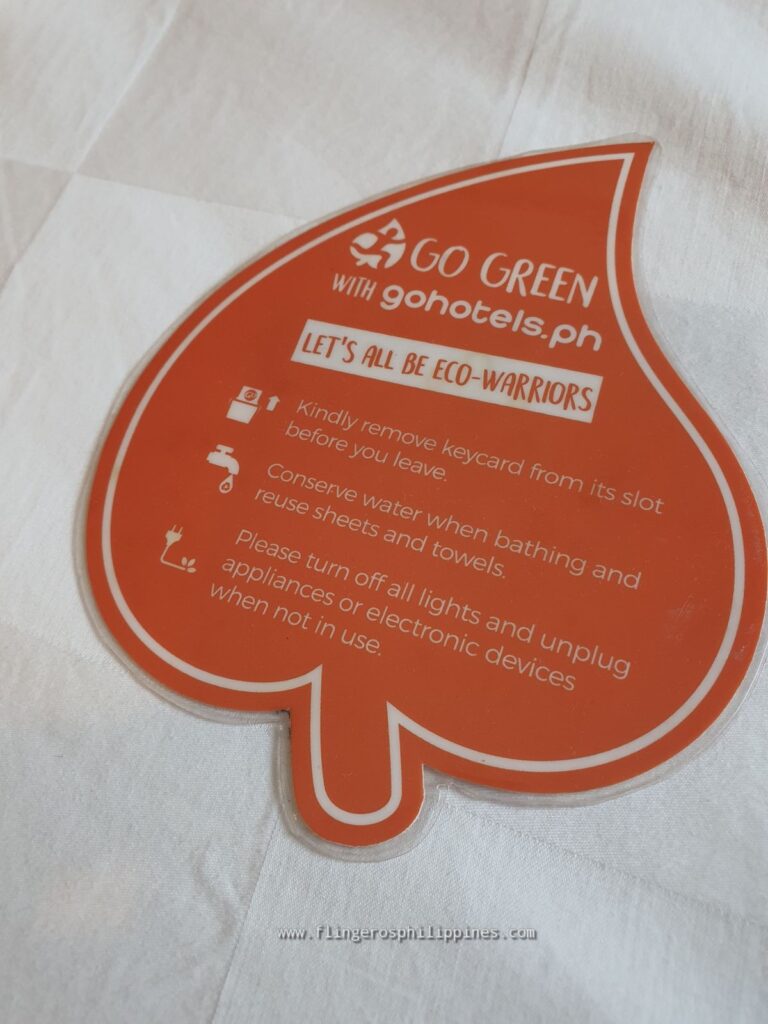 OTHER AMENITIES
CONFERENCE ROOM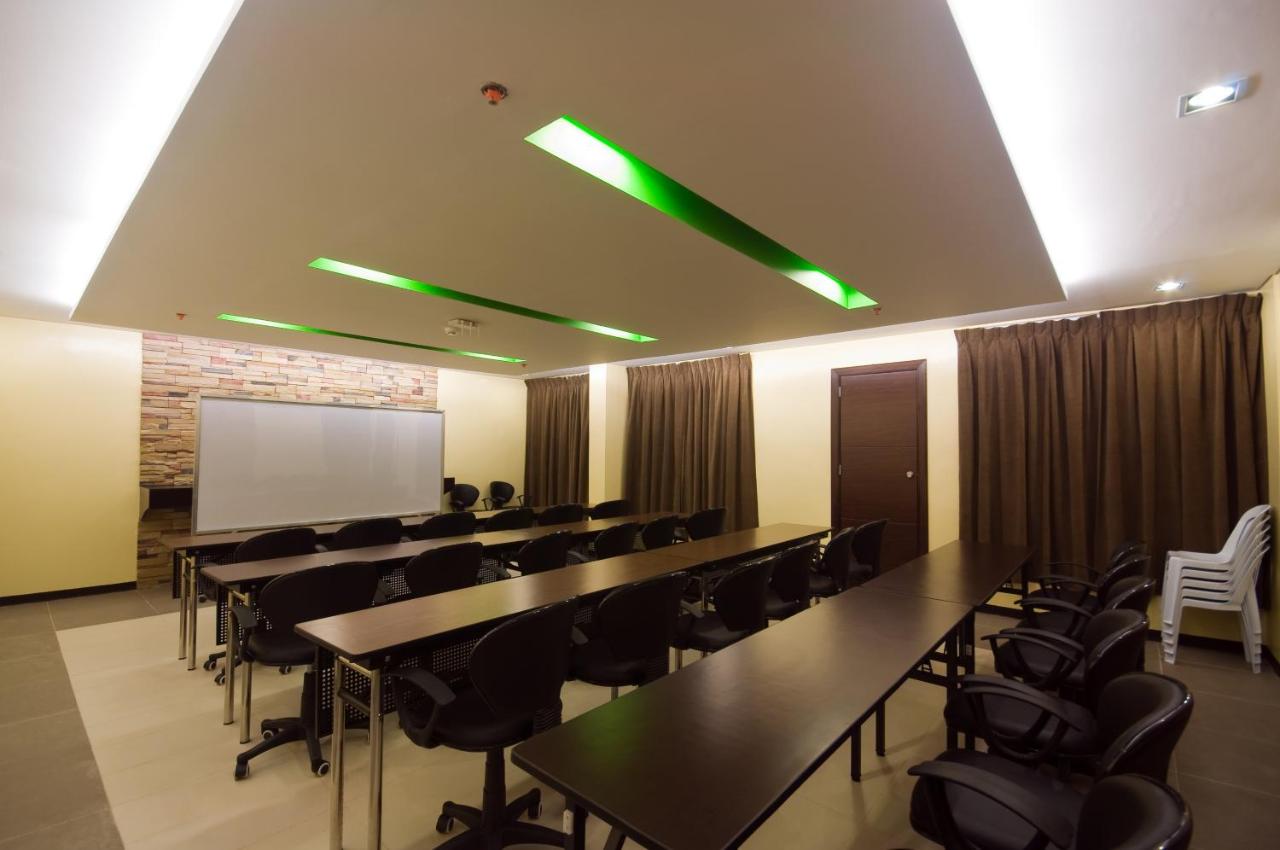 This room is good for 15 to 20 people. They also have a quite big parking space to accommodate guests if you plan to use the conference room. Better ask the Go Hotels Puerto Princesa staff regarding this.
COURTYARD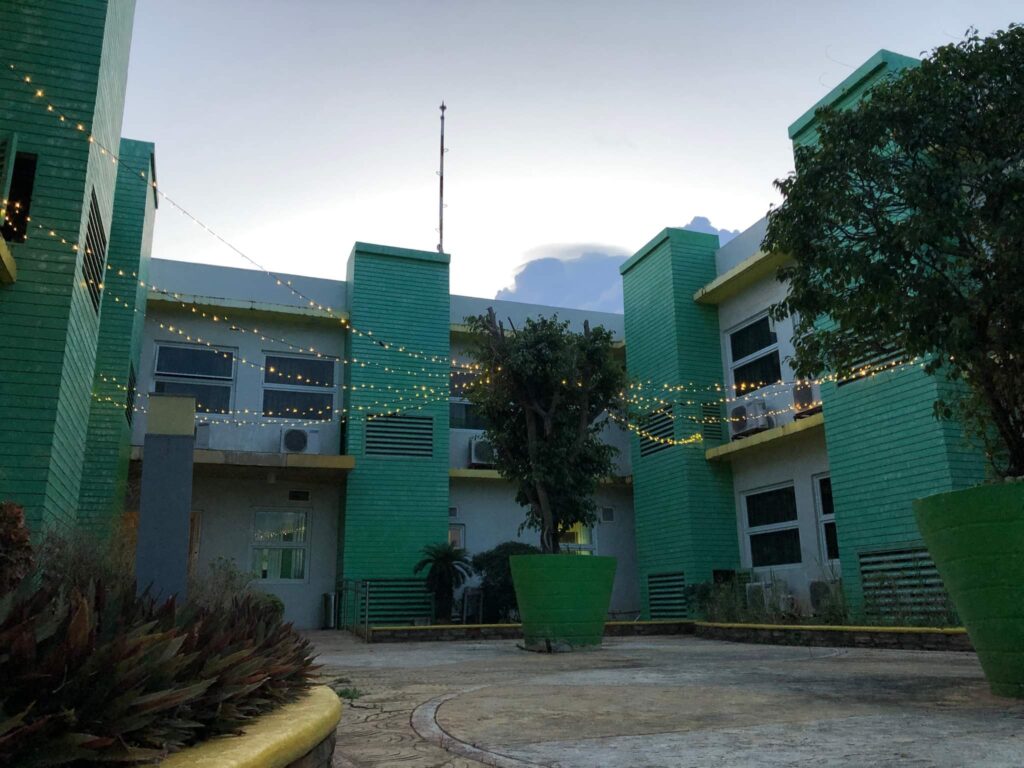 Feel confined in the walls of your room? This is a perfect place to hang out and feel the clean Palawan air. This may also be a perfect al fresco events venue for your special occasions.
So, when asked where to stay in Palawan or where to stay in Puerto Princesa? I for one had a comfortable stay here and would recommend GO Hotels Palawan Puerto Princesa to anyone who prefers to be inside Puerto Princesa City without sacrificing comfort and budget.
GO HOTELS – PUERTO PRINCESA
====================
LOCATION: Puerto Princesa North Road, Puerto Princesa, Palawan
GOOGLE MAP LINK
TIME: Check-in: 2:00 pm, Check-out: 12:00nn
BOOKING AND RESERVATIONS: GoHotels.ph
CONTACT: 0998 840 1637
To know more about Go Hotels Puerto Princesa, follow them on their social media accounts:
WEBSITE: https://www.gohotels.ph/go-hotels/branch/puerto-princesa
FACEBOOK: https://www.facebook.com/GoHotelsPuertoPrincesa
TIKTOK: https://www.tiktok.com/@gohotelsph
#GoodToGO #GoHotelsPH #GoExploreMore #RobinsonsHotelsAndResorts #BaragatansaPalawanFestival2022 #FlingerosPH #FoodFlingsPH #SaanSaPH #FlingerosPhilippines #PuertoPrincesa #Palawan #WhereToStayInPalawan #WhereToStayInPuertoPrincesa