"On the first week of Christmas my true love sent to me—1 million pesos worth of GCash para sa doble dobleng GV!"
For just 10 pesos, you could be singing that sweet holiday tune—and so much more—if you find yourself as one of the lucky winners of this year's TM FunPasko Raffle, an event that's sure to inspire your gift-giving spirit and bring doubled up good vibes through its 12 weeks of giveaways!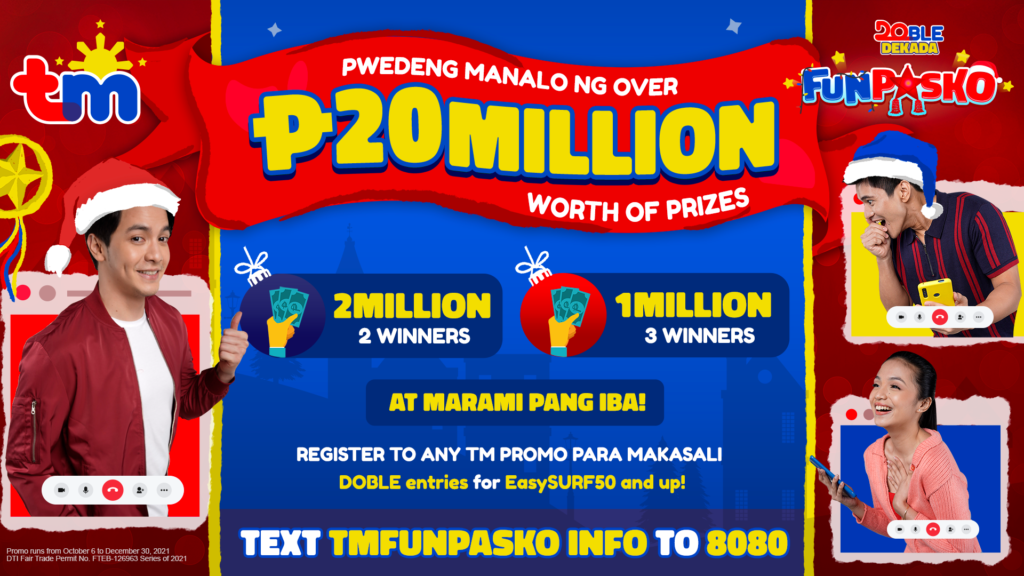 From now until Dec. 30, 2021, expect TM to roll out over 20 million pesos worth of prizes weekly, which include: a cash prize of 1 million pesos monthly; 5G mobile phones; school assistance package with laptop and home Prepaid Wifi; a motorcycle for FunKabuhayan; health and insurance benefits and more. On Jan. 5, 2022, two lucky "Ka-TMs" will be in for the New Year of their lives when they each win 2 million pesos in cash at the grand draw.
"The pandemic may have changed the way we celebrate Christmas, but that doesn't change our favorite holiday activities, such as receiving aguinaldos," says Mark Malabanan, TM Brand Head. "Through FunPasko, we aim to keep the spirit of Christmas alive in everyone's hearts and minds, and help make this season an enjoyable one for everyone, even as we celebrate it in our second year of living amid a pandemic."
Aside from the FunPasko Raffle, TM has other Yuletide treats in store for all Ka-TMs, such as: limited edition Doble Dekada 20GB sim; Online Tiangge Live Selling events on Shopee (November 26) and Lazada (November 27) for online sellers and shoppers; watch parties to Pinoy videos for families and friends; release of the TM FunPasko song and music video featuring ambassadors SB19, The Juans, and more; and an all-original TM Spotify playlist that features everyone's favorite TM songs like TM FunPasko 2020, TM Push ang Pusuan, TM Doble Dekada, and the upcoming Dobleng GV sa FunPasko (Noon, Ngayon, Palagi).
"We hope that through these holiday initiatives, TM becomes a beacon of hope for all Filipinos, even as some celebrate Christmas still apart from their loved ones," says Darius Delgado, Vice President for TM consumer mobile business. "Because with TM, doble doble ang GV ngayong FunPasko!"
To double your chances of winning at the TM FunPasko Raffle, download the New Globe One App on Google Play Store or App Store, and register for the promo. You can also double your raffle entries by registering for any EasySurf promo! Text TMFUNPASKO INFO to 8080 for free for more information.