A lovely, lovely, new dining experience indeed here at D' ORIGINE restaurant at dusitD2 Residences at the Fort, Manila offers a modern interactive dining destination where skillful gourmet masters and featured instructors from the renowned Institut Paul Bocuse led by Maître Cuisinere de France, Cyrille Soenen, showcase their culinary skills live as they prepare dishes in an open kitchen concept. d' origine Restaurant will open soon to cater to different foodies' discerning palates but I was so lucky to try them first.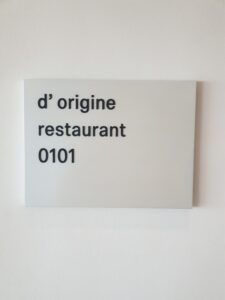 (F)OOD:
I am not an expert with French cuisine and I am not familiar with most of the dishes since I rarely eat in fine dine restaurants. Honestly, I have to research about some of the dishes but taste-wise, the palate definitely know what's good and what's not and I tell you, the dishes here are not only a feast for the eyes but also a feast for the palate.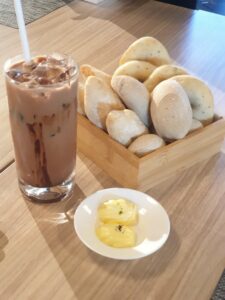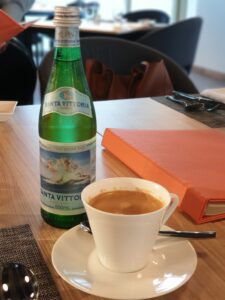 We started off with some bread, butter and a glass of iced mocha, hot cappuccino and a glass of sparkling water.
Parmentier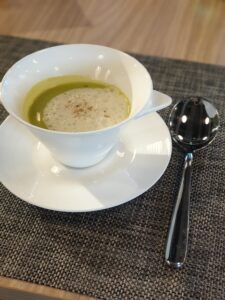 A light potato soup to start the exciting course of dishes. It is served with a cheese and herb ravioli and a truffle foam.
Pamora Free-Range Chicken Blanquette Fricassée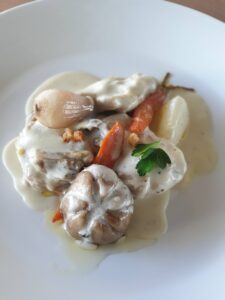 I am not familiar with Pamora and when I checked it out, it's the name of the farm offering free-range chicken. Stated from a research, it is believed that these organically-grown chicken produce meat which have more nutrients and less fat. This dish is actually a combination of two different dishes: Blanquette, poached in stock and a sauce is made with the liquor after cooking, to pour over the meat.; and Fricassée, made from poultry and other white meat, and the meat is just cooked in fat but not browned before cooking in a white sauce. (From www.asianonlinerecipes.com)

The chicken was moist and cooked well that you can easily glide your knife through it without any hesitations and that creamy sauce blended the two dishes well together.
Barrumundi Stuffed With Shrimp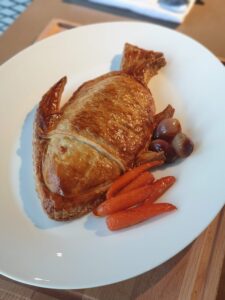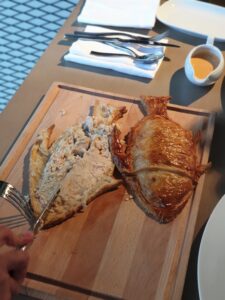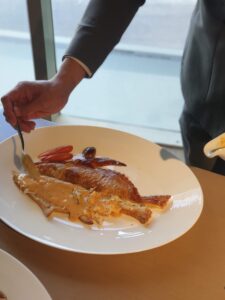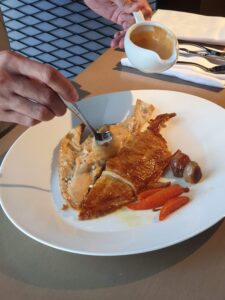 Barrumundi is an Asian Seabass, sometimes known as the "It" fish because of its heart-healthy Omega 3s. I totally love the presentation of this dish, the meat of the fish is covered with puff pastry that is shaped like the Barrumundi fish. You are given a front row view of the preparation actions while the chef preps the fish and its sauce. Though I am not a fan of this dish because it had an unusual taste for me, for sure seafood lovers would enjoy this dish.
Braised US Ox Tongue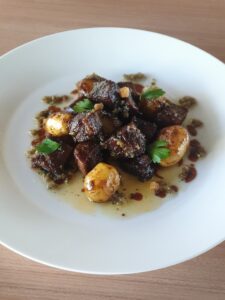 "What!? This is ox tongue?!", that was my first reaction to this dish. It seemed and tasted like beef wagyu cubes which was pressure cooked because the beef was so tender and was the answer to my meaty cravings. Ang sarap that we even re-ordered this dish! I definitely recommend this dish to any meat lover.
Braised Beef Cheeks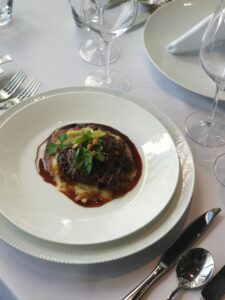 A tender piece of elegant beef cheeks served with celery-potato mash gratinated with emmental cheese.
Pork Chop Charcutiére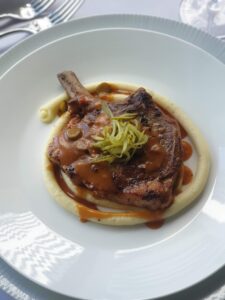 I love pork chop so this would be in my list but it was served with charcutiére sauce. The sauce was a little sour for me but the thick pork chop was tender and made perfect with a side of mashed potato.
Asparagus Adlai Risotto, Iberico Ham and Parmesan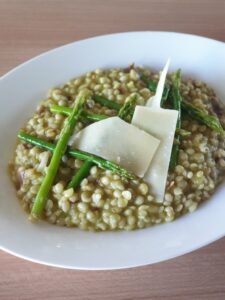 A creamy dish made slightly salty with glorious slices Iberico ham and Parmesan. Unfortunately, even though I super love risotto, I cannot eat much of this dish since asparagus triggers my allergies.
For the desserts, I can say that this is one of their strong suits for I enjoyed all of them! Just control the rum that you pour into that Baba Au Rum  dessert and you will be alright. (or, you can just drink the excess rum! haha!)
L' Original Kouign Aman by CiÇou With Salted Caramel Ice Cream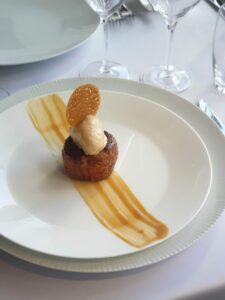 Caramelized laminated sweet dough, and home-made caramel ice cream.
Kouign Aman by CiÇou in Coconut Mango Cream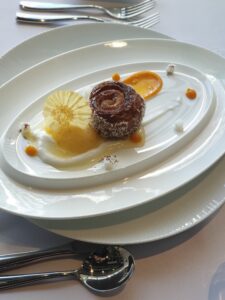 Coconut, mango cream, and pineapple rum sherbet.
Baba Au Rum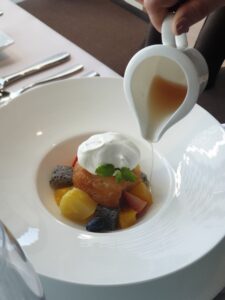 Yeast cake soaked in Kampot pepper scented syrup, compressed fruits, vanilla pastry cream, and Caribbean plantation rum.
Chocolate Moelleux Cake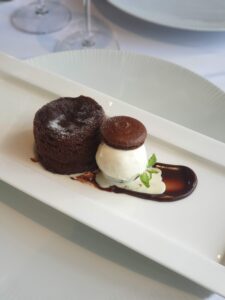 Served with vanilla ice cream and chocolate French macaron
Choc-Nut Craquelin Choux Pastry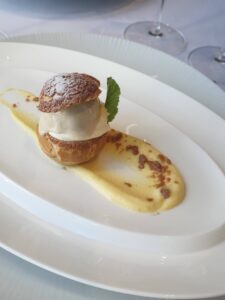 Profiterole with choc-nut filled with cheese chiboust.
Fennel Short Dough w/ Mascarpone Lemon Sherbet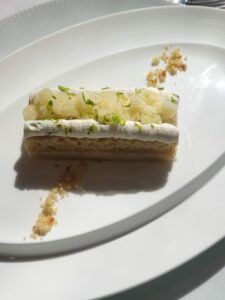 Calamansi light cream with mascarpone and lemon sherbet pasti
(A)MBIENCE:
An open-kitchen concept greets you as you enter the restaurant with different stations where all the chefs are busy preparing the dishes.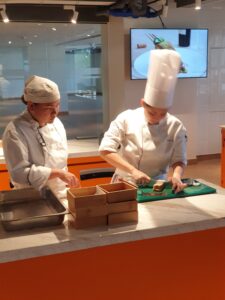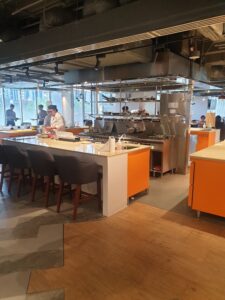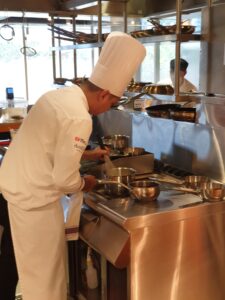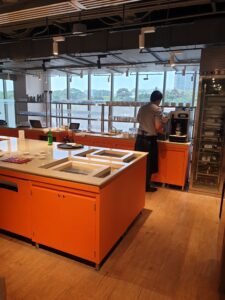 There are splashes of energizing orange colors on the counters which exude both curiosity and joy upon seeing the chefs that are busy tinkering with pots, pans, grills and whatnots using their magic to create our dishes.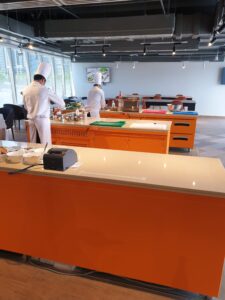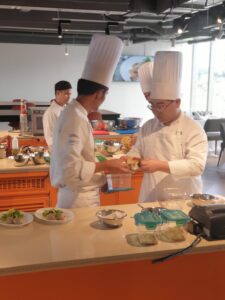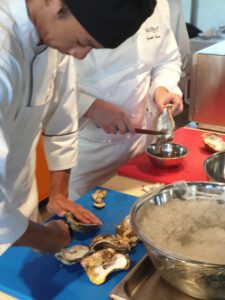 You can even have a sit on their high chairs in their high counter top to give a view of the live culinary actions in the kitchen and be served outright.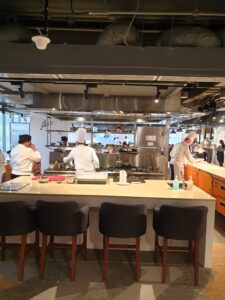 The restaurant is surrounded by big windows giving you the perfect lighting and view of busy Taguig outside.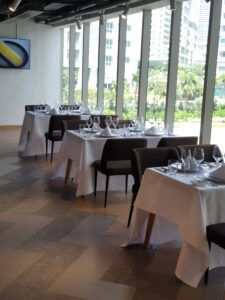 I also love that customers are given a sneak peek of what you are having with the multiple views of their menu: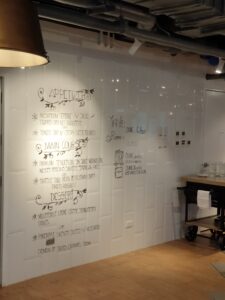 one on their wall splashed with clean white kitchen tiles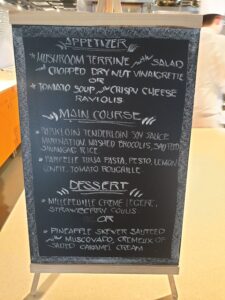 and another on one of the kitchen countertops
The tables are accented with white cloths or are just plain white giving you the feeling of clean and is completely prepped with a set of an elegant dinnerware.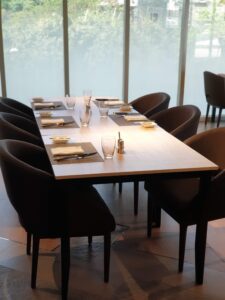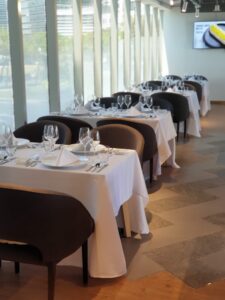 They also have an enclosed room for your private party, gatherings, or meetings.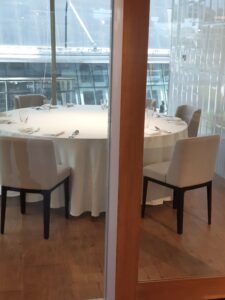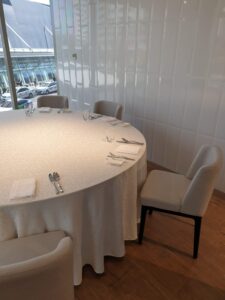 (B)UTLER SERVICE:
Aside from giving you personalized service, the servers are friendly and are knowledgeable with the menu and the dishes.
d' origine Restaurant
Location: Dusit Hospitality Management College Manila, 6 McKinley Parkway, Bonifacio Global City, Taguig City
Operating Hours: Daily 12:00 to 22:00
Website: https://www.dusit.com/dusitd2/thefort/dining/
Facebook: dusitD2 The Fort, Manila
Instagram: @dusitd2_thefortmanila