For director Ben Wheatley, the goal for "Meg 2: The Trench" was simple: "Taking 'The Meg' and supercharging it – bigger creatures, bigger action, bigger monsters, bigger environments, bigger equipment – the whole thing. Bigger."
Watch the trailer:
The cast also got a very welcome addition that helped supersize its cast – global action icon Wu Jing, star of five of the 10 highest-grossing films in China. "To be honest, I've always been terrified of monster films," says Jing. "You can ask me to jump off a high-rise building, and I think that's easier for me – but fighting a fictitious monster? That is something very hard for me."
Lucky for Jing, it's not all about fighting fictitious monsters. Part of the charm of "The Meg," one of the biggest surprise blockbusters in 2018, was its sense of humor. "Meg 2" producer Lorenzo di Bonaventura admits, "There was a little bit of uncertainty with the first film how the comedy would play for the audience. But they really bought into the notion of 'Let's not take ourselves too seriously – let's have some fun and some scares.' He adds that for the sequel, everything is more: "This time around, we'll have some more scares, a little more carnage in and out of the water, two globally popular actors in Jason Statham and Wu Jing, some new cast members, more action… and more Megs. It's a balance between reminding them of what they really loved and the characters they loved, and then giving them a new experience."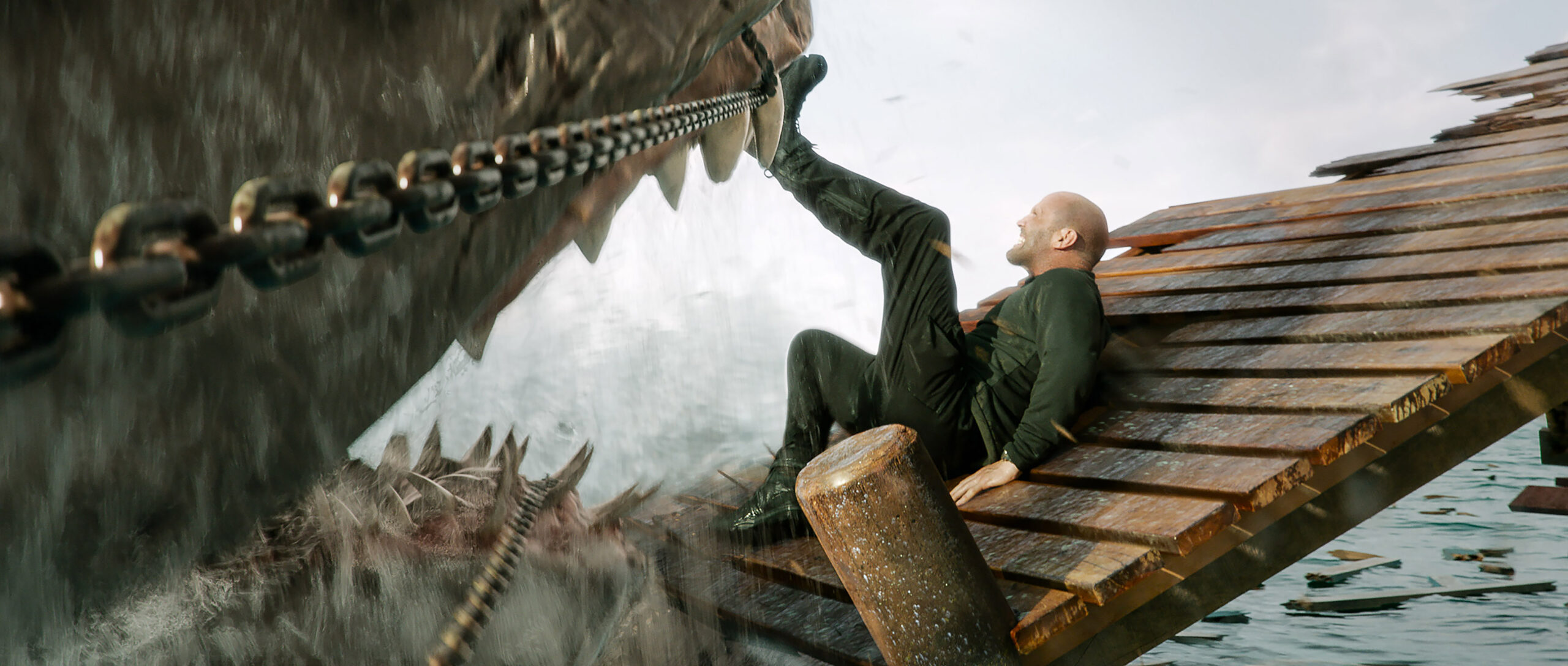 Looks like it's mission accomplished for director Wheatley. Producer Belle Avery agrees that "Meg 2: The Trench" is bigger and more. She says that for the sequel, they're "giving [audiences] more creatures, creating more personalities with the Megs and making more discoveries in the trench. I think that's pretty important. You know, mankind has a tendency to destroy things, and we touch on that. But, it's kind of like Jonas [Jason Statham] said in the first film, 'Meg versus Man is a slaughter.' So, you're going to see a little bit of that in this one, too, but fun slaughter."
In "Meg 2: The Trench," Statham and Jing lead a daring research team on an exploratory dive into the deepest depths of the ocean. Their voyage spirals into chaos when a malevolent mining operation threatens their mission and forces them into a high-stakes battle for survival. Pitted against colossal Megs and relentless environmental plunderers, our heroes must outrun, outsmart, and outswim their merciless predators in a pulse-pounding race against time.
Watch "Meg 2: The Trench," now showing in cinemas.
About "Meg 2: The Trench"
Jason Statham and Wu Jing lead an ensemble cast that also includes Sophia Cai ("The Meg"), Page Kennedy ("The Meg"), Sergio Peris-Mencheta ("Rambo: Last Blood"), Skyler Samuels ("The Gifted"), and Cliff Curtis ("Avatar" franchise).
"Meg 2: The Trench" is directed by Ben Wheatley ("In the Earth," "Free Fire"), from a screenplay by Jon Hoeber & Erich Hoeber ("The Meg," "Transformers: Rise of the Beasts") and Dean Georgaris ("The Meg," "Lara Croft: Toom Raider – The Cradle of Life"), and a screen story by Dean Georgaris and Jon Hoeber & Erich Hoeber, based on the novel The Trench by Steve Alten. The film is produced by Lorenzo di Bonaventura ("The Meg," "Bumblebee") and Belle Avery ("The Meg," "Before the Devil Knows You're Dead"), and executive produced by Jason Statham, Cate Adams, Ruigang Li, Catherine Xujun Ying, Wu Jing, E. Bennett Walsh, Erik Howsam, Gerald R. Molen and Randy Greenberg.
Now showing in Philippine cinemas, "Meg 2: The Trench" is distributed by Warner Bros. Pictures, a Warner Bros. Discovery company.
Join the conversation online and use the hashtag #Meg2