The first-ever Drag Race Philippines, from the Emmy-award® winning production company World of Wonder, premieres this August 17, 2022 on HBO GO via SKY featuring the fiercest, most fabulous Filipino drag artists from all over the world.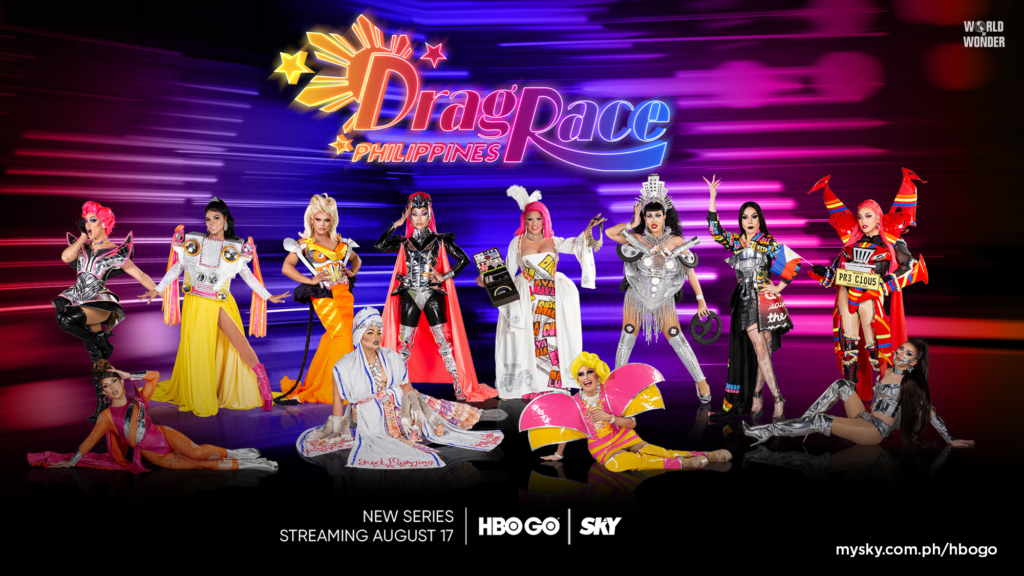 Watch the drama unfold as 12 Filipino drag queens – Brigiding, Corazon, Eva Le Queen, Gigi Era, Lady Morgana, Marina Summers, Minty Fresh, Precious Paula Nicole, Prince, Turing, Viñas DeLuxe, and Xilhouete show off their fiercest attitudes as they go head to head to compete for the crown.
The competing queens are given different challenges each week where they can showcase their own charisma, uniqueness, nerve and talent. At the end of each episode, be ready to witness two queens battle it out and lip-sync for their lives. Aside from the breathtaking costumes and powerful performances,
Drag Race Philippines will pay homage to the rich Filipino culture adding a fancy twist to iconic Pinoy elements, traditions and festivities.
The local franchise will be hosted by actor, model, and drag artist Paolo Ballesteros. Jervi Li, also known as "Kaladkaren," best known for their impersonations of Kapamilya journalist Karen Davila, and Jiggly Caliente, a fellow Filipina and contestant on RuPaul's Drag Race season 4 and All Stars season 6, will serve as judges.
Drag Race Philippines is produced in the Philippines by Fullhouse Asia Production Studios, Inc in conjunction with World of Wonder Productions, Inc. Fenton Bailey, Randy Barbato, Tom Campbell, and RuPaul Charles serve as executive producers on the series.
All roads lead to Drag Race Philippines and SKY subscribers can stream or download Drag Race Philippines from August 17, Thursday, on HBO GO through mobile, desktop, smart TV, and via the SKY Evo box.
To subscribe, visit mysky.com.ph/hbogo. HBO GO can also be enjoyed by SKYcable subscribers with existing HBO PAK subscription at no additional cost. Follow SKY on Facebook (fb.com/myskyupdates), Twitter (@myskyupdates), and Instagram (@myskyupdates) for further news and promotional updates.