ARMSCOR Global Defense Inc. (AGDI), the leading manufacturer of firearms, ammunition and defense products in the Philippines, recently kicked off the 17th Tactical, Survival and Arms (TACS) Expo which runs from June 22 to 25, 2023 at the SM Megatrade Hall in Mandaluyong City.
The 17th TACS Expo, a highly anticipated event among defense and safety enthusiasts,  not only offers great deals on firearm brands and accessories, it also features free seminars on survival and disaster preparedness, responsible gun ownership, firearms safety handling, self defense and other topics.
Armscor Global Defense Senior Vice President and Chief Marketing Officer Elizabeth Tuason welcomed the guests and visitors at the ceremonial opening of the four day-event.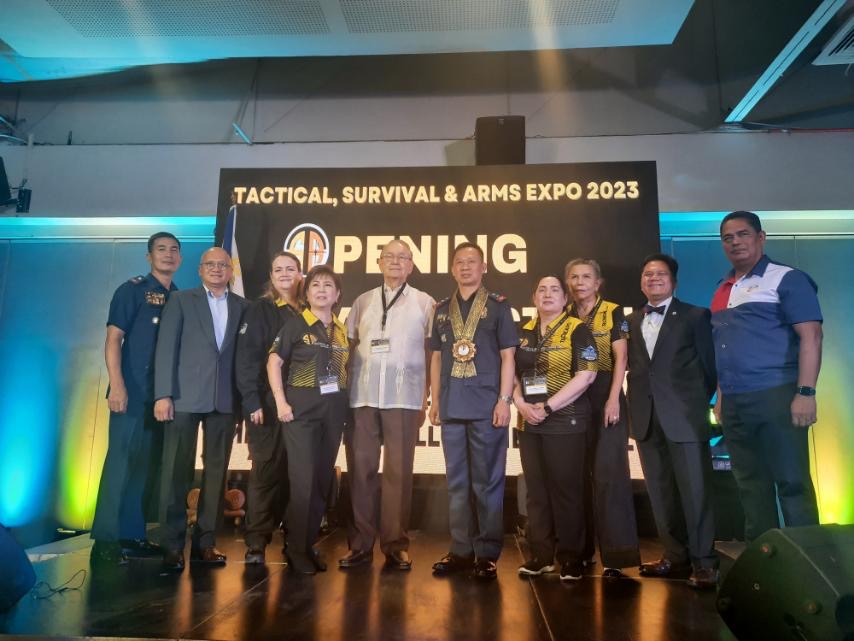 "TACS Expo is seen as a private entity's initiative to help the government in information dissemination regarding defense, security and survival. Armscor has grown its business of manufacturing firearms and ammunition alongside an advocacy of spreading awareness on emergency situations, organizing tactical, survival and arms expo became the means to realize this said advocacy. For this edition of TACS Expo, one can expect to be more equipped with survival skills through free seminars on improvisation and survival techniques, new paradigms of trauma management, responsible gun ownership, home emergency and disaster preparedness, and much more," Tuason remarked.
Police Maj. General Emmanuel Peralta, graced the event on behalf of PNP (Philippine National Police) Chief PGen. Benjamin Acorda, Jr. and expressed his gratitude for the event. The event is also a platform for a License to Own and Possess Firearms (LTOPF) caravan, receiving of Permit to Carry Firearms Outside Residence (PTCFOR) applications, and express releasing of firearms purchased for the duration of the show in partnership with the Philippine National Police (PNP).
"In line with our organization's commitment to public safety and responsible firearms ownership, I am pleased to announce that during this event, the PNP will facilitate several initiatives. By bringing these services and initiatives to the expo, we hope to make the process more accessible and convenient for interested individuals," Peralta said.
At the TACS Expo, visitors can avail of big discounts on firearm brands as well as accessories and survival gear from Armscor's very own Rock Island Armory; US brands such as North American Arms (NAA), Kel-Tec, CMMG, Hi-Point Firearms, Limcat Custom, Springfield Armory Inc. and Walther Arms; brands from Turkish manufacturers AKDAS Arms Company, Sa-Ka Arms, Sülün Arms, Derya Arms Ltd. and Sarsilmaz; European firearms brands from Italy's Tanfoglio, the Czech Republic's CZ, and Swiss defense supplier Brügger & Thomet.
Admission to the TACS Expo is free. Visit https://www.facebook.com/TACSEXPO for more information and details.